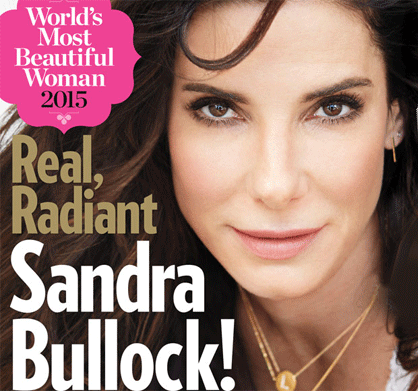 Sandra Bullock is the World's Most Beautiful Woman of 2015
She might not feel it, but Sandra Bullock is the most beautiful woman in the world.

Whether she believes or not, the 50-year-old star has been named as People Magazine's top pick in their annual World's Most Beautiful Woman of 2015.

The humble actress was let in on the secret ahead of Wednesday's big reveal but People need not have worried about her telling anyone.

Of the honour, the beauty told the magazine: "No, really. I just said, ''That's ridiculous.'' I've told no one.

'I've never been a great beauty. I've never been a bombshell that was coveted. In an odd way, that made growing older a lot easier in this business. I guess I am doing it on my own terms, and this is my wish for everybody."

While in Hollywood beauty is often measured - hence an annual list which this year saw almost 200 women labelled with the coveted adjective - the Oscar winner said it is something that cannot be seen.

While she may be People Magazine's top pick, the Gravity star said there were many other woman out there far more beautiful than her.

"I'm surrounded by some of the most beautiful women. My sister is absolutely gorgeous. Her kindness and sweetness are beyond compare; she is irritatingly smart, unwaveringly open-minded and loves me like nobody's business."

"If you are struggling the women in my life descend like paratroopers en mass and will not leave your side until they know you are standing on your own two feet again. No judgement, just support."