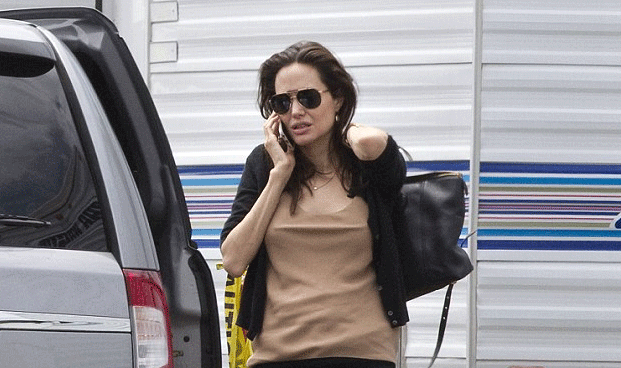 Jolie looks a little stressed while visiting Brad Pitt on set
Keeping an eye on your children can be a tough job any day of the week, but when you have six, staying relaxed is an almost impossible task.

Angelina Jolie certainly seemed to be feeling the pressure as she took her children to visit their faith on set in New Orleans, Louisiana, on Monday.

The 39-year-old looked a little stressed on the set of Brad Pitt's new film "The Big Shot" as she took a phone call.

Despite the older children - Maddox ,13, Pax, 11, and Zahara, 10 - not appearing to be with her on this trip, juggling her younger three and her phone call appeared to be stressing the star out.

While Shiloh, 8, stayed close, her six-year-old twins Knox and Vivienne were tearing around on set somewhere.

Angelina looked very serious as spoke on her phone furrowing her brow and frowning while pacing back and forth on the back lot.