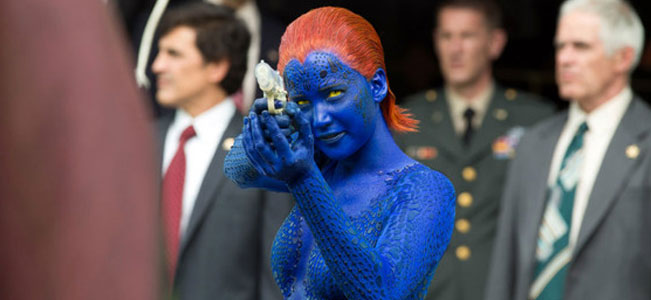 Jennifer Lawrence Says the Upcoming X-Men: Apocalypse Movie Is Her ''Last One'' as Mystique
At the premiere of her new movie Serena in NYC last night, Jennifer Lawrencerevealed to MTV that the upcoming X-Men: Apocalypse movie will be the last time she plays Mystique in the famous superhero franchise. "It is my last one, actually. Yes," the 24-year-old Oscar winner said with a smile on her face.

Although it's sad, the news isn't totally shocking. Lawrence, James McAvoy andMichael Fassbender all joined the franchise at the same time and it's been reported that all of their contracts were for three films. Lawrence's X-Men co-star and former boyfriend Nicholas Hoult said just last week that Apocalypse is his final movie playing Beast. "This is the last one I'm signed up for," Hoult said at SXSW.

Hoult added that he's not totally opposed to doing more X-Men flicks in the future. "The first one did so well and [Days of Future Past] got received so brilliantly," Hoult said. "It's like, Wow, people really want to see the films and the best thing is it's a great crew and cast to work with and he's a fun character. I have a good time playing him so I'd keep making them." X-Men: Apocalypse, which is set in the 1980s and directed by Bryan Singer, is due in theaters May 27, 2016.