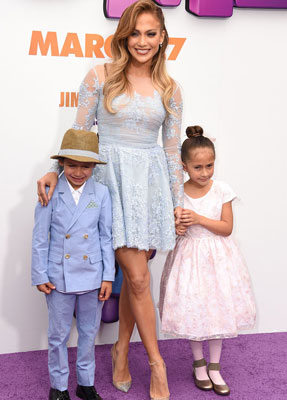 Jennifer Lopez's Twins Are Her Most Adorable Dates Ever
Jennifer Lopez hit the red carpet with two very adorable guests: her twins, Max and Emme. The trio got all dressed up for the LA premiere of Home on Sunday, looking cuter than cute every step of the way. While Jennifer showed some leg in a powder-blue dress, Emme was pretty in pink. As for the little lad of the group, Max looked like the spitting image of dad Marc Anthony in a double-breasted suit. After warming up to the purple carpet for a bit, Jennifer kneeled down for an animated chat with her mini mes. At one point, Max started pointing at something in the distance, making Jennifer beam with a big smile.

The proud mom's rare public appearance with her kids follows up the release of hermusic video for "Feel the Light," which is featured on the Home soundtrack. Ever the fashion risk taker, Jennifer recently slipped into a seriously impressive gown to perform the single on American Idol. In the midst of the show's fourteenth season, the judge made time for the Oscars, where she took enviable selfies from the audience.