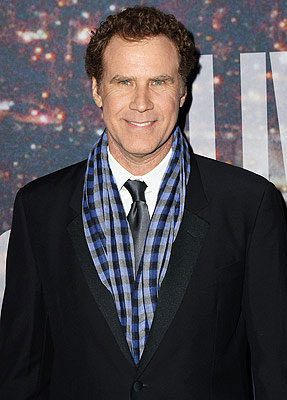 Will Ferrell Jokes: Fatherhood Is Like 'Running a Prison'
The funnyman, 47, admitted that raising three boys under one roof can sometimes lead to playing drill sergeant.

"I can only imagine, but I sometimes equate it to what it must be like running a prison," the SNL said at the SXSW premiere of his new filmGet Hard on Monday.

"What happens with three boys is you end up barking out orders like, 'Upstairs now!' 'Brush teeth!' 'Lights out!' " theAnchorman star explains. "There is so much chaos you can't really take the time to articulate."

Ferrell is father to sons Axel, 5, Mattias, 8, and Magnus, 11, with wife Viveca Paulin, 45, to whom he has been married since 2000. Despite the hectic household, the comedian admits he rarely feels like a bad-cop dad.

"Those rare moments where I lose my temper and I really become a dad, I often think, 'Oh, if anyone was a fly on the wall, they'd be like, "Will Ferrell is not a funny father! He's way too strict," ' " he jokes.