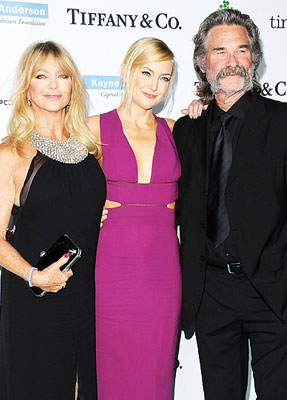 Kate Hudson and Mom Goldie Hawn's Sweet Birthday Messages for Kurt Russell
Tuesday was not only St. Patrick's Day, it was also a very important day in Kate Hudson's life – her dad Kurt Russell's 64th birthday.

In honor of her mom Goldie Hawn's partner of more than 30 years, Hudson (whose biological father is Hawn's ex-husband Bill Hudson) posted a sweet picture of the man she calls "Pa" on Instagram.

"Today in our family we not only celebrate St Patricks Day but the birthday of our Pa!" she wrote. "Happy Birthday to the most dependable, strong, authentic, loving and fun Dad! I love you! This is a man who made his family his number one priority his whole life. Never missed a school play, a soccer game, a hockey game, a dance recital and the list goes on and on. No matter what he was doing in his busy life, he always showed up. Not because he had to but because there was no other place on earth he would rather be then with his family. We felt the purity of that our whole childhood and my gratitude for his love is immeasurable. Happy Birthday Pa."

Her mom also chimed in with a birthday Tweet for her "Amazing wild and awesome man," as did Hudson's brother, Oliver.

He posted a pic of Russell as "Snake" Plissken from his cult hit film Escape from New York and wrote on Instagram, "Happy birthday to the greatest dad in Santa Monica.. I love you more than you realize.. Before you came into my life, I was only potential and you made me, forced me, to find my confidence, my independence and strive for the elusive fearlessness that you so matter of factly possess.. I look up to you and always will.. And when I told you I had a small penis, your answer was moving.. 'It's okay son, there's a snake in all of us.' "