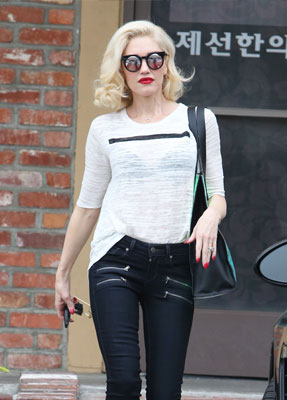 Gwen Stefani Is Having a Major Marilyn Moment Right Now
Gwen Stefani stepped out for an appointment in LA on Wednesday, and we can't help but acknowledge the strong Marilyn Monroe vibes she was giving off. The singer was clad in a white t-shirt and black pants with zippers (not so Marilyn-like, we admit), but her platinum-blond bob and signature red lip looked too similar to the late actress to ignore. She's always rocked a Marilyn-inspired look, but these most recent snaps are proof that she might be getting more inspired by Marilyn every day.

Last time we spotted her, she was out and about looking very Old Hollywood at a fashion event with Rachel Zoe and Hilary Duff, though it seems like the No Doubt frontwoman has been laying low otherwise; she could presumably be putting the finishing touches on her first solo album in eight years, which is due out this year. Gwen also covers the March issue of Cosmo and got candid about her career, kids, and marriage with fellow rocker Gavin Rossdale, saying, "I never really saw myself landing a guy that hot." Keep reading to see more evidence of Gwen's Marilyn Monroe transformation, and see our roundup of photos that prove she really is aging backwards.