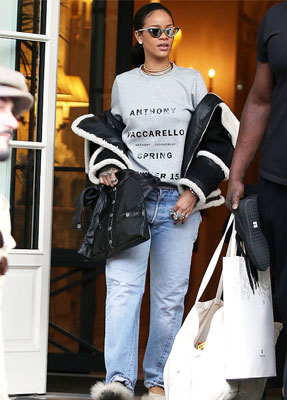 Rihanna Wears Jeans and a T-Shirt, World Continues to Orbit
Rihanna's idea of casual wear is very different than the average person's. To go shopping or grab a bite, she might be seen in this, this, or one of these. The crazier, bolder and more wildly styled the better. So when she left her hotel wearing something, well, downright ordinary, we sat up and took notice.

The star forwent her typical shredded jeans, miniskirts, daringly bare tops and sky-high heels for something more firmly in the "normcore" category. She started with a sweatshirt advertising the show of a favored designer, then added what can only be described as "dad jeans," a shearling-trimmed jacket and some interestingly fuzzy Simone Rocha mules (here's a top view) with a bedroom-slipper vibe. Of course, because it's Rihanna, she upped the ante a bit with her accessories (including her Adam Selman x Le Specs shades and ashiny grill).

We have to imagine that dressing to the hilt every time you leave the house can get exhausting, so not only do we not blame Rih for wanting to wear her comfiest outfit, we celebrate her for a taking a day off. Could this trend catch on? Is it possible that Kim Kardashian, Rita Ora or Lady Gaga might relax their reliably insane dress codes and step out in, say, a chambray shirtdress or black jeans and a white tee? Life is full of possibilities, and we're hoping that's one of them.