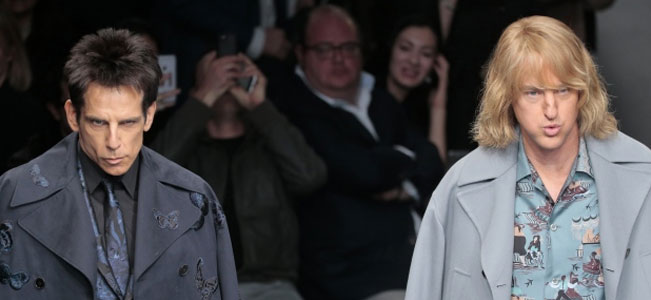 Zoolander Hits Paris Fashion Week
Derek Zoolander and Hansel are facing off on the runway once again! Ben Stiller and Owen Wilson reprised their famous Zoolander roles at the Valentino show Tuesday and it's probably the best moment ofParis Fashion Week.

The famous frenemies hit the catwalk to 1981 hit "Don't You Want Me" in custom looks by the label — a "Night Butterflies" brocade suit, paired with a hand-embroidered overcoat and black creepers on Derek and a silk "continent print Pajama suit" with cashmere overcoat and white sneakers on Hansel.

"Derek Zoolander and Hansel strut down the runway wearing cutting-edge fashion that asks the eternal question, "Où est la bibliothèque?", the live feed read during the video stream of the show. "Marie Antoinette once said, 'Let them eat cake.' Derek and Hansel have certainly devoured this runway."

It looks like the costars have officially kicked off their promo tour for the upcoming Zoolander sequel, hitting theaters Feb. 12, 2016. They even got some pointers from Vogue's Anna Wintour before their catwalk competition.