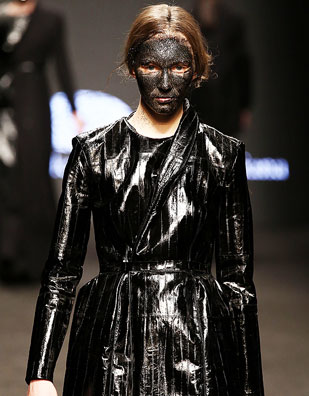 Milan Fashion Week 2015 Models Wear Glittery Blackface Makeup on Claudio Cutugno Catwalk
Italian designer Claudio Cutugno thought it was a good idea to send models down his runway wearing a full face of black makeup topped with glitter. Why? Reportedly, he was inspired by the artist Emilio Isgrò, but the questionable move has sparked a discussion on racism.

It's hard to focus at all on what the models are actually wearing when their faces are completely painted. Maybe the designer thought the glitter made it more artistic? Regardless, it still manages to shock that, in 2015, designers and artists themselves are shocked at the backlash to their bizarre "statements."

In recent weeks, several other fashion notables have come under fire for insensitive or outright racist remarks. Giuliana Rancic's comments regarding Zendaya's Oscars look (she said she smelled of "weed" and "patchouli" because of her dreadlocks) have received a lot of backlash. And A.P.C. designer Jean Touitou used the "n-word" to describe his fall collection (he later apologized).