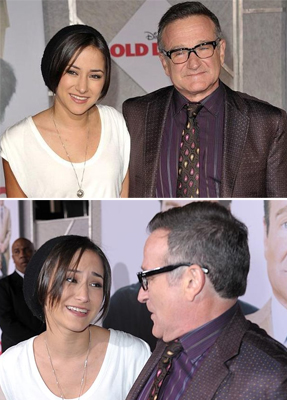 Robin Williams' Daughter On Keeping Her Dad's Memory Alive: He Is 'Impossible To Forget'
Zelda Williams proves it's impossible to forget the unforgettable.

The daughter of the late Robin Williams paid tribute to her beloved father – who committed suicide in August – and his humanitarian side at the Noble Awards in Beverly Hills on Friday.

"For me it's easy to continue remembering someone that is impossible to forget," she told reporters of the late comedian.

Making a rare red carpet appearance, Zelda, 25, spoke about stepping back out into the public eye. "It's not difficult, it's just a strange feeling. It's okay, it's going to be okay, but it is a transition," she said. "It's acknowledging that you have to stop feeling that the outside world does not exist, because for a short while it doesn't."

Zelda, who attended the event with her mother – and the late actor's ex-wife – Marsha Garces, has been probably the most vocal Williams family member since the loss of her father, calling herself the "social butterfly" of the group which includes siblings Zak and Cody.

It's a trait she happily shared with her father, who she memorialized with a recent tattoo of a hummingbird. "If you've seen them fly, and if you know a little bit about them, they're impossible to keep in one place," she explained of the tattoo's meaning. "Every time people see them it's not like they say, 'Oh my God, a hawk!' It's a hummingbird, and that was the reaction that my father got, from children, from fans, from senior citizens, and that's what hummingbirds always meant to me."