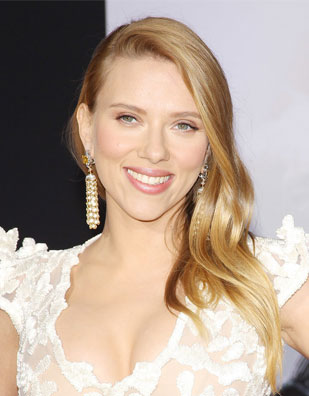 Love life Lowdown: Scarlett Johansson
"I started acting when I was seven. I had a couple of lines in this play called "Sophistry" with Ethan Hawke. I studied at the Lee Strasberg Institute, and that really gave me an opportunity to perform before live audiences. There's absolutely a difference between that and working in film... like you can mess up in film and not worry about it." Said Johansson.

Date of Birth: 22 November 1984, New York City, New York, USA

Birth Name: Scarlett Ingrid Johansson

Height: 5' 3" (1.6 m)

Scarlett Johansson was born in New York City. Her mother, Melanie Sloan, is from an Ashkenazi Jewish family, and her father, Karsten Johansson, is Danish.

Scarlett showed a passion for acting at a young age and starred in many plays. She has a sister namedVanessa Johansson, a brother named Adrian, and a twin brother named Hunter Johansson born three minutes after her.


She began her acting career starring as Laura Nelson in the comedy film North (1994). The acclaimed drama film The Horse Whisperer (1998) brought Johansson critical praise and worldwide recognition. Following the film's success, she starred in many other films including the critically acclaimed cult film Ghost World (2001) and then the hit Lost in Translation (2003) withBill Murray in which she again stunned critics. Later on, she appeared in the drama filmGirl with a Pearl Earring (2003).

In 2003, she was nominated for two Golden Globe Awards, one for drama (Girl with a Pearl Earring (2003)) and one for comedy (Lost in Translation (2003)). She dropped out of Mission: Impossible III (2006) due to scheduling conflicts. Her next film role was inThe Island (2005) alongside Ewan McGregor which earned weak reviews from U.S. critics. After this, she appeared in Woody Allen's Match Point (2005) and was nominated again for a Golden Globe Award.

Since then, she has appeared as part of an ensemble cast in the romantic comedy He's Just Not That Into You (2009), in the action superhero film Iron Man 2 (2010), the comedy-drama We Bought a Zoo (2011) and started as the original scream queen,Janet Leigh, in Hitchcock (2012).

Scarlett and Canadian actor Ryan Reynolds were engaged in May 2008. In 2010, the couple announced their separation and subsequently divorced in 2011. In 2013, she became engaged to French journalist Romain Dauriac.