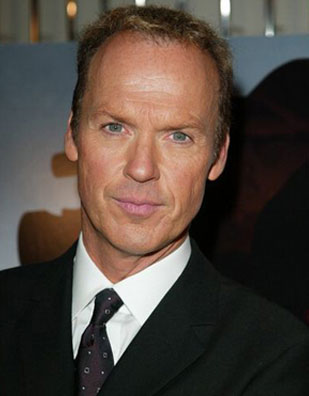 Stars Best Kept Secrets: Michael Keaton
Comparing making Batman Returns (1992) to the first "Batman" film: "In some ways, this one was harder, because I felt like I was doing an impersonation of myself. Which, aside from being nearly impossible, is really weird." Said Keaton.

Date of Birth: 5 September 1951, Coraopolis, Pennsylvania, USA.

Birth Name: Michael John Douglas.

Height: 5' 9" (1.75 m).

Quirky, inventive and handsome US actor Michael Keaton first achieved major fame with his door busting performance as fast talking, ideas man "Bill Blazejowski" alongside nerdish morgue attendant Henry Winkler in Night Shift (1982). Keaton was born Michael John Douglas on September 5th, 1951 in Corapolis, Pennsylvannia, to Leona Elizabeth (Loftus), a homemaker, and George A. Douglas, a civil engineer and surveyor. He is of Irish, as well as English, Scottish, and German, descent. Michael studied speech for two years at Kent State, before dropping out and moving to Pittsburgh. An unsuccessful attempt at stand-up comedy led Keaton to working as a TV cameraman in a cable station, and he came to realize he wanted to work in front of the cameras.

Keaton first appeared on TV in several episodes of Mister Rogers' Neighborhood (1968). He left Pittsburgh and moved to Los Angeles to begin auditioning for TV. He began cropping up in popular TV shows including Maude (1972) and The Mary Tyler Moore Hour (1979). Around this time, Keaton decided to use an alternative surname to remove confusion with better-known actor Michael Douglas. After reading an article on actress Diane Keaton, he decided that Michael Keaton sounded good. His next break was scoring a co-starring role alongside James Belushi in the short-lived comedy seriesWorking Stiffs (1979), which showcased his comedic talent and led to his co-starring role in Night Shift (1982). Keaton next scored the lead in the comedy hits Mr. Mom(1983), Johnny Dangerously (1984) , Gung Ho (1986) and the Tim Burton horror-comedy Beetlejuice (1988).

Keaton's career was given another major boost when, in 1989, Tim Burton cast him as millionaire playboy / crime-fighter "Bruce Wayne" in the big budget Batman (1989). To say there were howls of protest by fans of the caped crusader comic strip is an understatement! Warner Bros. was deluged with thousands of letters of complaint commenting that comedian Keaton was the wrong choice for the Caped Crusader. Their fears were proven wrong when Keaton turned in a sensational performance, and he held his own on screen with opponent Jack Nicholson playing the lunatic villain, "The Joker". Keen to diversify his work, Keaton next appeared as a psychotic tenant inPacific Heights (1990), as a hard-working cop in One Good Cop (1991) and then donned the black cape and cowl once more for Batman Returns (1992). He remained in demand during the 1990s, appearing in a wide range of films including the star-studded Shakespearian Much Ado About Nothing (1993), another Ron Howard comedy The Paper(1994), with sexy Andie MacDowell in Multiplicity (1996), as a dogged cop in Jackie Brown (1997) and the mediocre thriller Desperate Measures (1998). More recently, Keaton has appeared in several productions with mixed success, including Live from Baghdad (2002), First Daughter (2004) and Herbie Fully Loaded (2005).