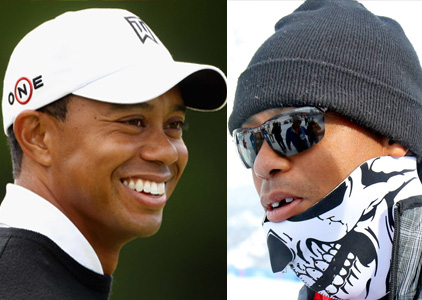 Tiger's tooth knocked out by videographer
Tiger Woods made headlines on Monday for knocking something out at a sporting event...and it wasn't a golf ball.

The 39-year-old champion golfer, the most famous in the world, got one of his front teeth knocked out by a video camera as he celebrated 30-year-old girlfriend and Olympic skierLindsey Vonn's victory in Cortina d'Ampezzo, Italy, where she won a super-G and broke a world record to become the most successful female in Alpine skiing World Cup history.

"During a crush of photographers at the awards' podium at the World Cup event in Italy, a media member with a shoulder-mounted video camera pushed and surged towards the stage, turned and hit Tiger Woods in the mouth. Woods's tooth was knocked out by the incident," the golfer's agent, Mark Steinberg, said in a statement to NBC.

NEWS: Do Tiger Woods' ex-wife Elin Nordegren and Lindsey Vonn Get Along? Woods' appearance was a surprise. He had flown from his home in Florida to greet Vonn at the finish line and didn't tell her he was coming, The Gold Channel reported.

He was pictured at the World Cup event wearing a ski mask with a skeleton design. He and Vonn were also photographed kissing.