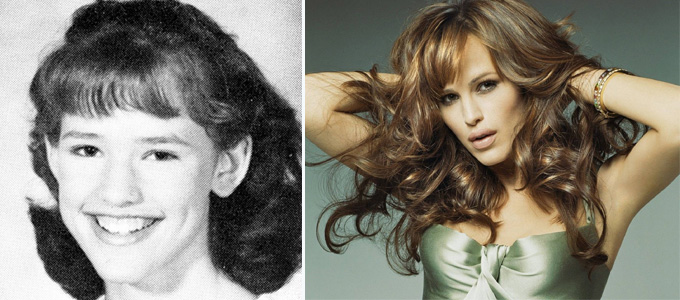 Stars Best Kept Secrets: Jennifer Garner
Raised in a very conservative family with high morals and standards, her parents insisted that Jennifer attends church every Sunday.. Didn't allow her to wear makeup or a bikini, and even made her wait till she was sixteen to pierce her ears! Date of Birth: 17 April 1972, Houston, Texas, USA

Birth Name: Jennifer Anne Garner

Height: 5' 8" (1.73 m)

Jennifer Garner, who catapulted into stardom with her lead role on the television seriesAlias (2001), has come a long way from her birthplace of Houston, Texas. Raised in Charleston, West Virginia by her mother, Patricia Ann (English), a retired teacher of English, and her father, William John Garner, a former chemical engineer, Jennifer was the middle sibling of three girls. She spent nine years of her adolescence studying ballet and describes her years in dance as ones characterized by determination rather than talent, being driven mostly by a love of the stage.

Jennifer took this determination with her when she enrolled at Denison University as a chemistry major, a decision that was later changed to a drama major when she found that her passions for the stage were stronger than her love of science. New York attracted the young actress after college where she worked as a hostess while pursuing a career in film and television. Her most recent move has been to Los Angeles, a decision that led to a role on the television series Felicity (1998), where she met her future husband Scott Foley. The couple divorced in 2004.

Jennifer appears on television as Agent Sydney Bristow, who works for the Central Intelligence Agency. For her work, Garner has received four consecutive Emmy nominations for Outstanding Lead Actress in a Drama Series. She has also received four Golden Globe nominations and won once, as well as received two Screen Actors Guild Award nominations, and won once. She has appeared in numerous other television production as well as such films as Elektra (2005), 13 Going on 30 (2004),Daredevil (2003), Pearl Harbor (2001) and Dude, Where's My Car? (2000). Aside from filming Alias (2001), Jennifer enjoys cooking, gardening, hiking, and inspired by her character on the series, kickboxing.