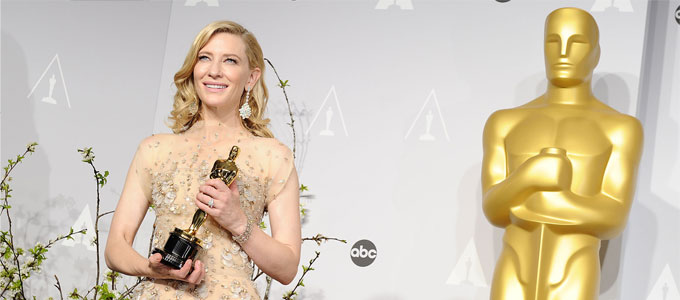 Kate Blanchett From Egyptian Kaboria To The Lord Of The Rings
When she was 18, Cate was on vacation in Egypt. A fellow guest at a cheap hotel in Cairo asked if she wanted to be an extra in a movie, the Egyptian boxing movie Kaboria [Crabs (1990)], directed by Khairy Beshara. She appeared in 3 scenes in that movie, in one of them she was dancing to the main song of the movie.

Date of Birth: 14 May 1969, Melbourne, Victoria, Australia

Birth Name: Catherine Elise Blanchett

Height: 5' 8½" (1.74 m)

Cate Blanchett was born on May 14, 1969 in Melbourne, Victoria, Australia, to June (Gamble), an Australian teacher and property developer, and Robert DeWitt Blanchett, Jr., an American advertising executive, originally from Texas. She has an older brother and an younger sister. When she was ten years old, her 40-year old father died of a sudden heart attack. Her mother never remarried, and her grandmother moved in to help her mother. Cate graduated from Australia's National Institute of Dramatic Art in 1992 and, in a little over a year, had won both critical and popular acclaim.

On graduating from NIDA, she joined the Sydney Theatre Company's production of Caryl Churchill's "Top Girls", then played Felice Bauer, the bride, in Tim Daly's "Kafka Dances", winning the 1993 Newcomer Award from the Sydney Theatre Critics Circle for her performance. From there, Blanchett moved to the role of Carol in David Mamet's searing polemic "Oleanna", also for the Sydney Theatre Company, and won the Rosemont Best Actress Award, her second award that year. She then co-starred in the ABC Television's prime time drama Heartland (1994), again winning critical acclaim. In 1995, she was nominated for Best Female Performance for her role as Ophelia in the Belvoir Street Theatre Company's production of "Hamlet".

Other theatre credits include Helen in the Sydney Theatre Company's "Sweet Phoebe", Miranda in "The Tempest" and Rose in "The Blind Giant is Dancing", both for the Belvoir Street Theatre Company. In other television roles, Blanchett starred as Bianca in ABC's Bordertown (1995), as Janie Morris in G.P. (1989) and in ABC's popular series Police Rescue (1994). She made her feature film debut in Paradise Road (1997). She also married writer Andrew Upton in 1997. She had met him a year earlier on a movie set, and they didn't like each other at first. He thought she was aloof, and she thought he was arrogant, but then they connected over a poker game at a party, and she went home with him that night. Three weeks later he proposed marriage and they quickly married before she went off to England to play her breakthrough role in films: the title character in Elizabeth (1998) for which she won numerous awards for her performance, including the Golden Globe for Best Actress in a Drama.

Cate was also nominated for an Academy Award for the role but lost out to Gwyneth Paltrow. 2001 was a particularly busy year, with starring roles in Bandits (2001), The Shipping News (2001), Charlotte Gray (2001) and playing Elf Queen Galadriel in the "Lord Of The Rings" trilogy. She also gave birth to her first child, son Dashiell, in 2001. In 2004, she gave birth to her second son Roman. Also, in 2004, she played actress Katharine Hepburn in Martin Scorsese's film "Aviator" (2004), for which she received an Academy Award as Best Supporting Actress. Two years later, she received an Academy Award nomination as Best Supporting Actress for playing a teacher in "Notes on a Scandal"