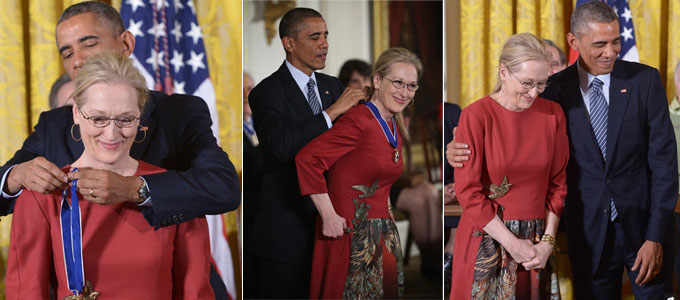 President Obama Professes his Love for Meryl Streep
Meryl Streep is the queen of award season in Hollywood, and now she's receiving special honors in Washington DC, too. On Monday, the actress was one of the 19 Americans presented with the Presidential Medal of Freedom, the highest civilian honor given to those who made remarkable contributions to the country in their particular field. During the presentation ceremony, President Obama joked around with Meryl, saying, "I think this is like the third or fourth award Meryl's gotten since I've been in office, and I've said it publicly: I love Meryl Streep. I love her. Her husband knows I love her. Michelle knows I love her. There's nothing either of them can do about it.

Stevie Wonder also received the honor, and Obama remarked that Stevie's Talking Book album was the first he bought with his own money.

The full list of honorees includes Ethel Kennedy, author Isabel Allende, journalist Tom Brokaw, and actress Marlo Thomas. Take a look at the best pictures from the event, including some hilarious photos of Meryl's sweet reaction.