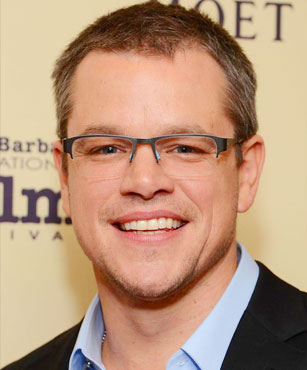 Matt Damon to star in Alexander Payne's Downsizing
Matt Damon has signed on to star in Alexander Payne's Downsizing.

The actor will turn down Zhang Yimou's The Great Wall in favour of Payne's revived project.

Date of Birth: 8 October 1970, Boston, Massachusetts, USA

Birth Name: Matthew Paige Damon

Height: 5' 10" (1.78 m)

Matthew Paige Damon was born on October 8, 1970, in Boston Massachusetts, to Kent Damon, a stockbroker, realtor and tax preparer, and Nancy Carlsson-Paige, an early childhood education professor at Lesley University. Matt has an older brother named Kyle who is now a sculptor. His father is of English and Scottish descent, and his mother is of Finnish and Swedish ancestry. The family lived in Newton until his parents divorced in 1973, when Damon and his brother moved with his mother to Cambridge. He grew up in a stable community, and was raised near actor Ben Affleck.

Towards the end of 1999, Matt played "Tom Ripley", a working-class young man who tastes the good life and will do anything to live it. Both Jude Law and Gwyneth Paltrowalso starred in the movie. The Talented Mr. Ripley (1999) earned mixed reviews from critics, but even so, Matt earned praise for his performance. Matt lent his voice to the animated movie, Titan A.E. (2000) in the year 2000, which also earned mixed reviews from the public. He also starred in two other movies, All the Pretty Horses (2000) and the golf comedy-drama, The Legend of Bagger Vance (2000), starring alongside Will Smith. In the year 2003, he signed on to star in The Informant! (2009) by Steven Soderbergh and the Farrelly Brothers' Stuck on You (2003). He also starred in Gerry(2002), a film he co-wrote with his friends, Gus Van Sant and Casey Affleck. One of Matt's most recognizable work to date is his role in the "Bourne" movie franchise. He plays an amnesiac assassin, "Jason Bourne", in The Bourne Identity (2002), The Bourne Supremacy (2004) and The Bourne Ultimatum (2007). Another praised role is that as "Linus Caldwell" in the "Ocean's" movie franchise. He had the opportunity to star opposite George Clooney, Brad Pitt, Julia Roberts and Don Cheadle in Ocean's Eleven(2001). The successful crime comedy-drama eventually had two other sequels, Ocean's Twelve (2004) and Ocean's Thirteen (2007). Among other highly acclaimed movies that Matt managed to be a part of was in Terry Gilliam's The Brothers Grimm (2005),George Clooney's Syriana (2005), Martin Scorsese's The Departed (2006) and Robert De Niro's The Good Shepherd (2006).

In his personal life, Matt is now happily married to Argentine-born Luciana Barroso, whom he met in Miami, where she was working as a bartender. They married in a private civil ceremony on December 9, 2005, at the Manhattan Marriage Bureau. The couple has four daughters Alexia, Luciana's daughter from a previous relationship, as well as Isabella, Gia and Stella. Matt is a big fan of the Boston Red Sox and he tries to attend their games whenever possible. He has also formed great friendships with his Ocean's co-stars, George Clooney and Brad Pitt, whom he works on charity projects with. He and actor Ben Affleck, together with Ben's wife, Jennifer Garner, are also good family friends and can be often seen going out together with Matt's wife.