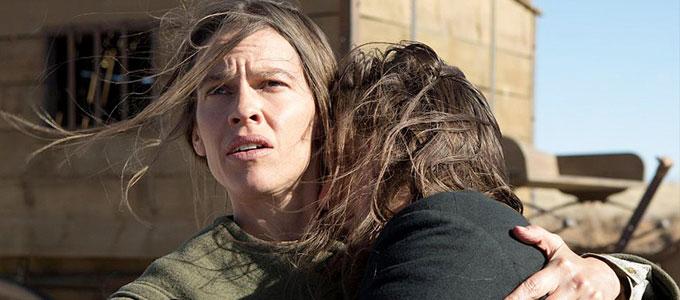 Hilary Swank Learns Her New Frontier Drama Is Close to Her Own Family
Hilary Swank already felt a strong connection to the frontier woman she plays in The Homesman – for which she's getting Oscar buzz – but she initially didn't realize that the story hit surprisingly close to home.

Long after the actress, 40, wrapped her highly touted stint playing Mary Bee Cuddy – a single, independent woman living in the harsh, dangerous world of Nebraska's Great Plains in the 1850s – she discovered that a member of her own family experienced circumstances similar to one particular scene in the film.

Swank's father Stephen recently shared accounts of their family history with her, documenting the farming clan's life in Nebraska and Iowa back to the early 1700s.

"There was one account that is so shockingly similar to the story [in The Homesman] that my jaw dropped," the two-time Oscar winner tells PEOPLE, noting that her father had no idea what the film was about.

The particular tale involved a band of Native Americans who "shot one of my ancestors, John Swank, 19 times," the actress explained. "But he was against a rock and he stayed upright, and they fled because they thought he was a spirit because he didn't fall over."

Much of the film – co-written and directed by Swank's co-star Tommy Lee Jones and adapted from Glendon Swarthout's 1988 novel – unblinkingly depicts the rough, uncompromising and often deadly environment of the Great Plains, as Swank and Jones's characters try to deliver three women driven insane by the experience back to more civilized territory.