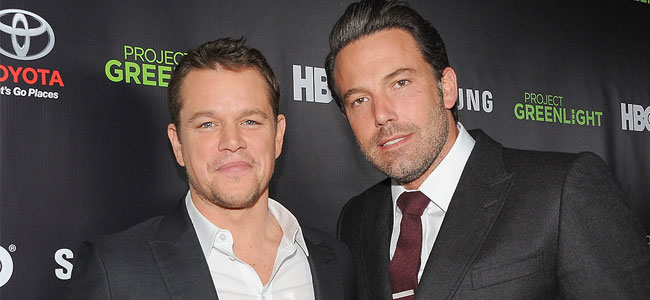 Lifelong Friends Ben Affleck & Matt Damon: 'We Have Great Wives'
Even though they have a handful of Oscars on their collective mantle, lifelong friends Ben Affleck and Matt Damon still fondly recall a period in their lives where the next job, the next meal, were never exactly guaranteed.

"Those times were fun!" Affleck tells PEOPLE, while sitting alongside Damon. "We had a great time! We were young, we didn't have the kinds of fears that you have when you get into your forties if you haven't gotten to where you want to go. We were in our twenties and we just had a blast!"

"We were around a community of people that we really liked, and all of us were trying to do something similar. You didn't think of it as 'struggling' at that point, you were just trying to break in, and that was great," the soon-to-be Caped Crusader said at an event Friday that celebrated season 4 of the pair's resurrected passion project, Project Greenlight, which is set to air on HBO next spring. (Burgeoning director Jason Mann, who outlasted 12 other finalists, ended up taking home the top prize for season 4.)

It didn't take long for the Affleck and Damon to "break in" – they were still in their twenties when they scored a Best Original Screenplay Oscar for Good Will Hunting in 1997.

It also didn't hurt that Affleck was named PEOPLE's Sexiest Man Alive in 2002, and Damon later took the title in 2007.

Now both married with kids, they credit their families with giving their busy lives balance.

"We have great wives, and we're very lucky," says Affleck, who has three children with Jennifer Garner. Damon has four daughters with wife of nine years, Luciana Barroso.

But their enduring bromance has also helped keep their feet on the ground. The pair, who have a production company together, simply enjoy each other's company, laughing as they made ribald jokes about Affleck's full-frontal nude scene in Gone Girl, and entertaining a room full of journalists in Los Angeles on Friday night.

"We've known each other for more than 30 years, and the fact that we have a company together is kind of a part of the whole thing," Damon says, before adding with a chuckle, "We used to have business lunches together in high school when we had no business to talk about."