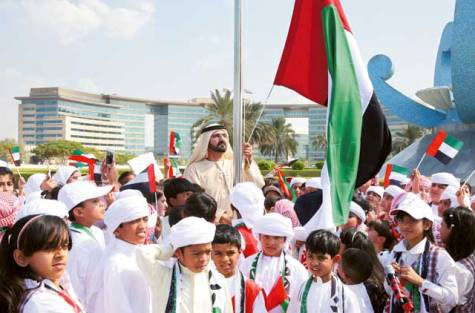 UAE Flag Day: Flag and head held high
His Highness Shaikh Mohammad Bin Rashid Al Maktoum, Vice-President and Prime Minister of the UAE and Ruler of Dubai, on Wednesday called upon all UAE citizens and government departments to hoist the UAE flag on Monday, Flag Day, as a sign of national unity.

Flag Day is celebrated annually on November 3, the day of President His Highness Shaikh Khalifa Bin Zayed Al Nahyan's accession as President of the UAE.

"Brothers and sisters, next Monday [November 3] we'll hoist the UAE flag in all our departments, institutions and homes and we will instil it in the hearts of our generations," Shaikh Mohammad said in a tweet on Wednesday.

"We will hoist the flag at 12pm to send one message — we are not the emirates, we are UAE, the nation," he added.