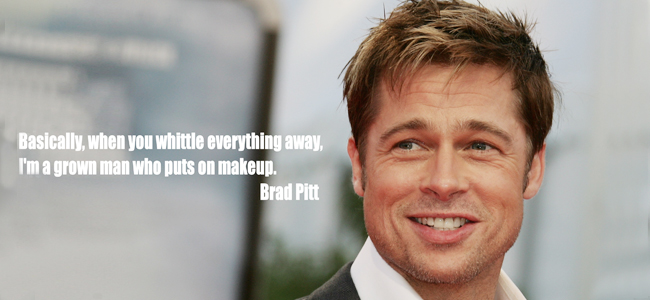 So You're Brad Pitt!
A legendary film actor of the modern era known as much for his versatility as he is for his handsome face!

Date of Birth: 18 December 1963, Shawnee, Oklahoma, USA

Birth Name: William Bradley Pitt

Height: 5' 11" (1.8 m)

An actor and producer known as much for his versatility as he is for his handsome face, Golden Globe-winning actor Brad Pitt's most widely recognized role may be Tyler Durden in Fight Club (1999). But his portrayals of Billy Beane in Moneyball (2011), and Rusty Ryan in the remake of Ocean's Eleven (2001) and its sequels, also loom large in his filmography.

Pitt was born William Bradley Pitt on December 18th, 1963, in Shawnee, Oklahoma, and was raised in Springfield, Missouri. He is the son of Jane Etta (Hillhouse), a school counselor, and William Alvin Pitt, a truck company manager. He has a younger brother, Douglas (Doug) Pitt, and a younger sister, Julie Neal Pitt. At Kickapoo High School, Pitt was involved in sports, debating, student government and school musicals. Pitt attended the University of Missouri, where he majored in journalism with a focus on advertising. He occasionally acted in fraternity shows. He left college two credits short of graduating to move to California. Before he became successful at acting, Pitt supported himself by driving strippers in limos, moving refrigerators and dressing as a giant chicken while working for "el Pollo Loco".

Pitt's career hit an upswing with his casting in A River Runs Through It (1992), which cemented his status as an multi-layered actor as opposed to just a pretty face. Pitt's subsequent projects were as quirky and varied in tone as his performances, ranging from his unforgettably comic cameo as stoner roommate Floyd in True Romance (1993) to romantic roles in such visually lavish films as Interview with the Vampire: The Vampire Chronicles (1994) and Legends of the Fall (1994), to an emotionally tortured detective in the horror-thriller Se7en (1995). His portrayal of frenetic oddball Jeffrey Goines in Twelve Monkeys (1995) won him a Globe for Best Performance by an Actor in a Supporting Role.

Pitt's portrayal of Achilles in the big-budget period drama Troy (2004) helped establish his appeal as action star and was closely followed by a co-starring role in the stylish spy-versus-spy flick Mr. & Mrs. Smith (2005). It was on the set of Mr. & Mrs. Smith that Pitt, who married Jennifer Aniston in a highly publicized ceremony in 2000, met his current partner Angelina Jolie. Pitt left Aniston for Jolie in 2005, a break-up that continues to fuel tabloid stories years after its occurrence.

Pitt and Jolie have six children, including two sons and a daughter who were adopted.