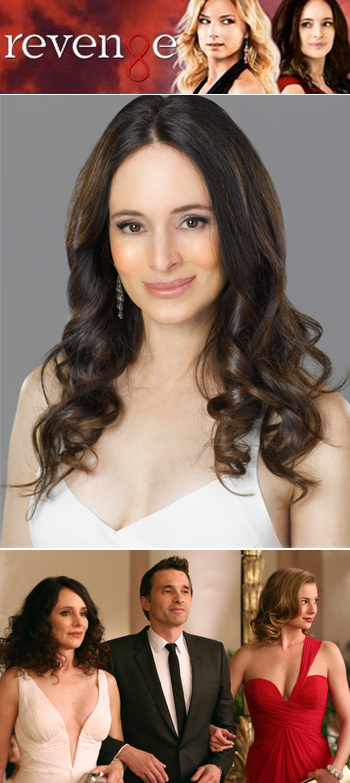 Revenge: Victoria Could End Up Dead This Season, Says Madeleine Stowe
Madeleine Stowe insists she doesn't know everything that's going to happen on season 4 of Dubai One's drama series "Revenge" at GMT 17:00 | UAE 21:00, every Monday .

Yup, Stowe said Victoria could end up dead this season!

But if Victoria is destined to take her final breath, it doesn't sound like it's happening anytime soon.

"She has a lot of interesting paths, a dramatic history, that hasn't actually come to the fore yet," Stowe said of her television alter ego. "Probably more will come…She had a very demented early background, very tortured and had been used over and over and over again and I think Emily and Victoria are very similar creatures."

Stowe does think the series could have ended with the season three finale. "I think they ended it very well last season," she said. "But I think that they feel there's much more to reveal and if the network will go with it, as they've somewhat promised, you're going to find that maybe what Emily believes to be true is not the whole truth." At the end of season three, it was revealed that Emily's dad David (James Tupper) wasn't actually dead, but was alive and had been in hiding.

"I don't even exactly know where we're going this season, [but] I will guarantee you that you'll be very surprised," Stowe said. "I will say that it appears that David and Victoria have some sort of sadomasochist relationship."

With Emily (Emily VanCamp) right in the middle.

"The character of Emily is so central to the show and after three years of exploring her through that lens of revenge, the staff was like, 'What new element can come into her life that will shake her up completely and allow us to force Emily to find out who Amanda is?' and we realized it's her father," co-executive producer Aaron Harberts told E! News at the ATX TV Festival in Austin in July.. "Bringing David back, he's the one character out there who could really push a lot of her buttons. For us, we're always looking to do new dynamics and find something new."

#DubaiOneTV | #Celeb #Revenge: #Victoria Could End Up Dead This Season, Says #MadeleineStowe http://t.co/2dPvA4nn8l pic.twitter.com/Xwt2kMRN7P

— Dubai One (@DubaiOneTV) October 14, 2014