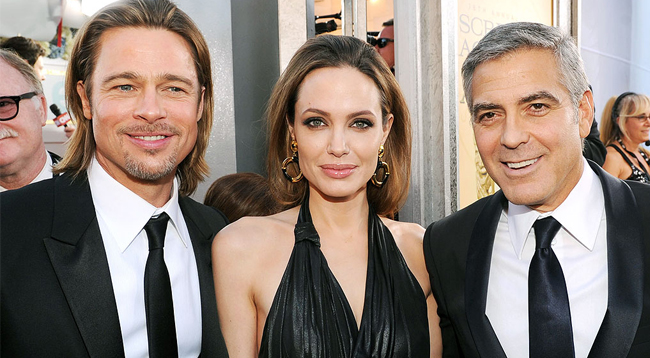 Marriage Isn
Brad Pitt and George Clooney are both married men now, but Pitt opened up recently about how the pals are different from each other.

"George is extremely accessible. He's one of our best representatives. He's funny as s---. He's a joy to be around. I guess maybe I'm more of a miserable bastard," the actor jokes to British GQ in its November issue.

"I'm a bit of a loner you know? I'm more quiet by nature. And coming from, you know, hillbilly country, I'm probably more reserved," says Pitt, who grew up in Springfield, Missouri.

And although he and wife Angelina Jolie were together for nine years beforetying the knot, the Fury star, 50, says marriage isn't just a piece of paper.

"I wouldn't say [marriage is] just a title. There's more to it than that," he says, adding that family is becoming more of a priority than career these days.

"I've been slowing down for a while now. And slowly transitioning to other things," he says. "And, truthfully, I do want to spend more time with my kids before they're grown up and gone."

#DubaiOneTV | #Celeb Marriage Isn't 'Just a Title'.. Says #BradPitt ! #ClooneyWedding #Clooney http://t.co/rCVv443CR2 pic.twitter.com/AftZeKQ5Tn

— Dubai One (@DubaiOneTV) September 30, 2014