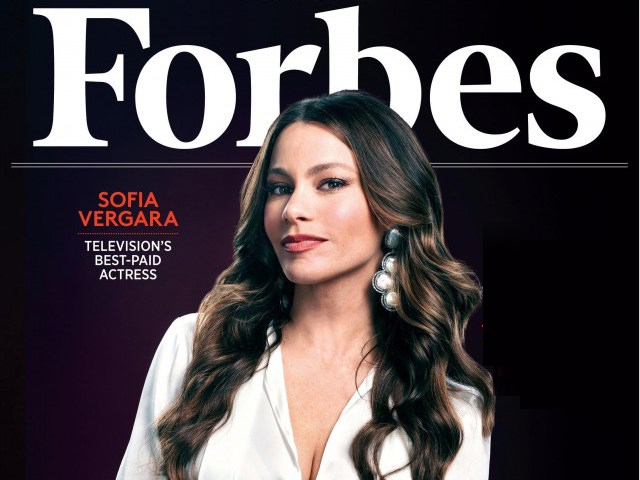 Sofia Vergara, Once Again Is The Highest-Paid TV Actress
Forbes: It's no secret that Hollywood has always been a man's world. The top 10 actresses on our list this year earned a total of $140 million between June 2013 to June 2014; that's a far stretch from the combined $214 million our male TV actors earned this year. Still, no one can beat the most powerful woman in television right now: Sofia Vergara.

The actress lands in the No. 1 spot for a third year in a row, with a remarkable $37 million — that's more than our top-earning TV actor, Ashton Kutcher ($26 million). At 42, the Modern Family star continues her streak in large part due to her business savvy. Like the rest of her cast members, the Colombian-born star earns a reported $325,000 per episode, but the bulk of her earnings come from her lucrative endorsements and licensing deals. Vergara is the face of Diet Pepsi, CoverGirl, Head & Shoulders, AT&T T +0.37%, and the medication Synthroid. The actress' appearance during this year's Emmy Awards ceremony (where she was literally put on a pedestal and made to spin around) might have angered some female viewers, but Vergara is much more than just a pretty face — she's the co-founder of Latin World Entertainment, a multi-million dollar empire. The talent management and entertainment-marketing firm recently teamed up with CNET to launch a Spanish-language tech news site. Vergara's brand also continues to grow thanks to her 12-year deal with Kmart, a strategic move to better appeal to Hispanic shoppers.

Earlier this year, she also launched her first fragrance for HSN HSNI -0.49% and starred in the indie movie Chef, which received rave critical reviews and became the only summer indie to hit $30 million at the box office. Combine all of her various ventures together and Vergara out-earns FORBES' second-highest paid actress by roughly $24 million.


CELEBS & EVENTS l @DubaiOneTV @Forbes: #Sofia Vergara Once Again The Highest Paid #TV Actress as pic.twitter.com/oyeC8jkvH7

— Dubai One (@DubaiOneTV) September 4, 2014