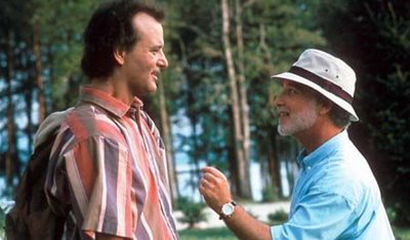 What About Bob?
Date - 29/09/2008 | Days - Monday
Time - GMT 19:00 | UAE 23:00
Director - Frank Oz
Actors - Bill Murray, Richard Dreyfuss, Julie Hagerty
The day he leaves on a month's vacation, best-selling author and renowned psychiatrist Dr. Leo Marvin (Richard Dreyfuss) acquires a new patient, the multiphobic Bob Wiley (Bill Murray). Consumed by his fears of germs, enclosed spaces, and other people, Bob tracks Dr. Marvin to his New Hampshire retreat and arrives on his doorstep for treatment. Dr. Marvin's professional but strained advice to "take a vacation from your phobias" is translated by Bob to mean "take a vacation in New Hampshire," and he starts to become a fixture in their home, to Marvin's growing incredulity and rage--especially when his wife and children, charmed by Bob's childlike enthusiasm, start to think Bob is more fun than Marvin. There seems to be only one way to get rid of Bob, and that's to do it permanently. Murray and Dreyfuss balance each other perfectly, one growing more sane as the other stumbles toward madness. A quirky family comedy, Frank Oz's WHAT ABOUT BOB? encourages viewers to stop being so straight-laced and start having fun.