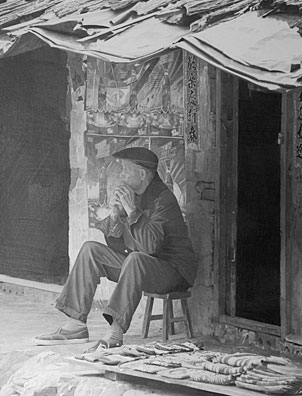 Watch: Realistic Images You Won't Believe Aren't Photographs
With their intricate and flawless detail, these images look like the work of a gifted photographer. But these stunning pictures are actually the work of an artist and are infact hand-drawn pictures.

Paul Cadden, from Glasgow, uses his incredible eye for detail to recreate photos in black and white, often using only a graphite pencil or watercolours. The pictures are based on photographs which he takes as he travels around the world.

The 50-year-old's latest subjects were taken on a trip to China and depict everyday life in Hong Kong and Guangzhou, a huge metropolis located in the south of the country. The busy cultural capitals of London and Barcelona also feature in his work.

From the wrinkles on a gentleman's face, a cloud of cigarette smoke or waves lapping onto the beach, Mr Cadden's drawings - which employ the technique known as hyperrealism - look unbelievably realistic.

They take between three and six weeks to produce and usually come in A1 or A0 sizes. They are considered so niche that they can sell at galleries for up to £5,000 each. Hyperrealism was born from the idea of photorealism, which are paintings based on photographs but created in a non-photographic medium.