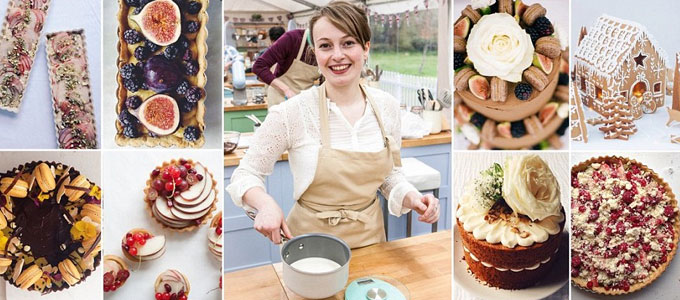 How Bake Off Girl is Already a Star Cook at 19
With their intricate designs and beautiful presentation, these cakes and tarts look like the work of a seasoned baking professional. In fact, they were made by 19-year-old Flora Shedden, the youngest contestant in the sixth series of the Great British Bake Off, which starts tomorrow.

The Scottish teenager, who comes from a big family of well-to-do bakers, is already an accomplished cook, sharing recipes for delicate and creative pastries, cakes and bread on her food blog.

While many contestants tremble at the idea of producing an elaborate centrepiece, she has said she "quite likes to bake a good showstopper".

Miss Shedden, who will start a history of art degree at St Andrews University next month, lives in Dunkeld, Perthshire, with her parents Colin, 58, and Tiffany, 50, and two younger sisters. She describes them as her "harshest critics".

Her inventions include fennel ice-cream sandwiches, a grapefruit and olive oil bundt (ring) cake, peach and pecan tarts and a blueberry and macaron loaf. She even posted a picture of a three-layer chocolate and brown sugar cake which she baked to mark her upcoming appearance on Bake Off.

The "celebration cake" was decorated with dark chocolate, brambles and a scattering of wild edible flowers. She wrote alongside the picture: "I truly hope you enjoy the series as much as we all enjoyed filming it. I had the complete honour to spend time with a hilarious and talented crew, and some pretty amazing bakers too.

One habit judges Mary Berry and Paul Hollywood may not be so keen on is her apparent love of tension while baking.

Recalling a tantrum she threw while waiting for a loaf to prove, she told how she would "moan to mum on the brink of tears that the yeast was in fact broken and my life was not worth living. I feel – and still do – that it is important for drama in the kitchen".

She told a local newspaper her family had sampled her baking too often and now only give praise sparingly. "I have been baking since I was tiny – I have no memories of not baking," she told The Courier. "I quite like to bake a good showstopper, a centrepiece. And everything is challenging in its own way. I have had lots of baking disasters which normally occur when I am rushing around, or having to produce something at a deadline. I think my family have reached the point that they are sick of my baking, but they are complimentary when they need to be.

She will be joined on Bake Off, which begins on BBC1 tomorrow at 8pm, by 11 other contestants including a Lithuanian bodybuilder, the Dalai Lama's personal photographer and a fireman. Miss Shedden said: "I plan to be down the back of a sofa when [the show] will be on TV. It will be quite a tough but funny watch for me."