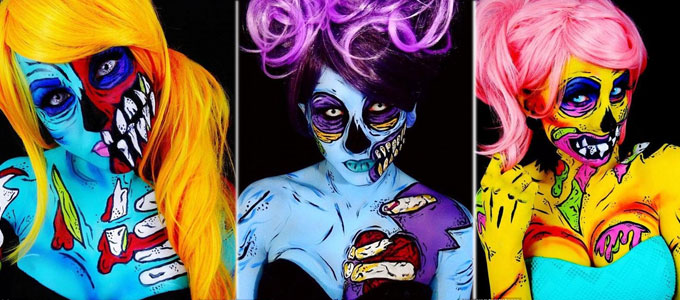 Watch: Makeup Fanatic Transfer Herself Into a Zombie
A hairdresser who discovered a talent for zombie makeup over Halloween now uses body art to transform herself into a variety of creepy characters.

Makeup fanatic Corie Willet, 29, paints her face and body to turn herself into a a clown, gruesome fortune teller and cartoon characters. Miss Willet, from Illinois, US, has only been experimenting with the designs since last year and her detailed creations usually take between four to six hours.

Miss Willet said: "I've always loved dressing up in costume, either for Halloween or parties, but I love the idea that I can take a canvas I know so well - my own face - and turn it into something that I can't even recognise."

She found that when she began experimenting with makeup in October last year, it helped to relax her. She said: "It was actually a really awesome way to relieve stress and anxiety at the end of the day. I have a hard time sitting still but when I'm painting, I really don't realise how much time passes until I'm done."

Miss Willet is committed to her art, which she regularly posts on Instagram under Twistinbangs, but admitted it's a big undertaking.

The more intricate designs - where her whole torso is covered in body paint - take between four and six hours to complete, while even the simpler creations require around two to three hours.

She said: "The longest time one's ever taken me was six hours 30 minutes but it was really fun to do. The saddest part is rinsing it off before I go to bed. The response I've gotten is so surreal." The looks all have a ghoulish theme but the striking bold colours have a pop-art influence.

Miss Willet uses neon wigs and coloured contact lenses to top off the look and creates her own props - making a sequin bralet for a Mermaid-inspired design and spraying a football black to accompany her all-seeing fortune teller.