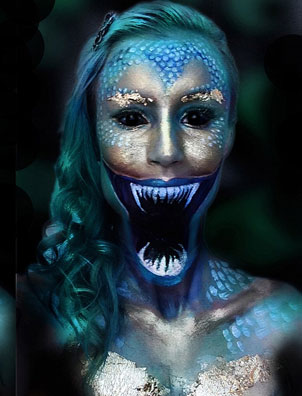 WATCH: Make-Up Artist Turns Herself Into Monsters and Aliens
They say make-up can transform any look. And in the case of Emily Anderson that saying is definitely true. The professional make-up artist spends up to eight hours at a time disguising herself as characters from her favourite films using body paint and cosmetics.

The 23-year-old, from Los Angeles, has worked on music videos for Nicki Minaj and David Guetta as well as special effects for Captain America. Her transformations include Spiderman's enemy Venom and the sandworm from Tim Burton's Beetlejuice.

She has also mastered how to look like Medusa and paint scenes from Disney favourites Lion King and Peter Pan. Her latest post for her social media fans was of a raptor from the new Jurassic World blockbuster. She said: "I take the designs from pop culture like Disney and comic books and some are my original design. On a busy week I will just do one, but other weeks I can do two or three. I usually wear the makeup for an hour before I wash it off and I have only been out in public once though everyone loved it."

Her most popular post has been of her as a mermaid. She said: "It's funny as I wasn't actually going to post it. I really the Raptor too and the Lion King scene, which took me seven hours to do. The different characters appeal to a wide range of people as they all hold an appeal - people love it. My boyfriend doesn't like it when I go near him when I have done my face. I try to make him kiss me sometimes but he just tells me to get away from him."