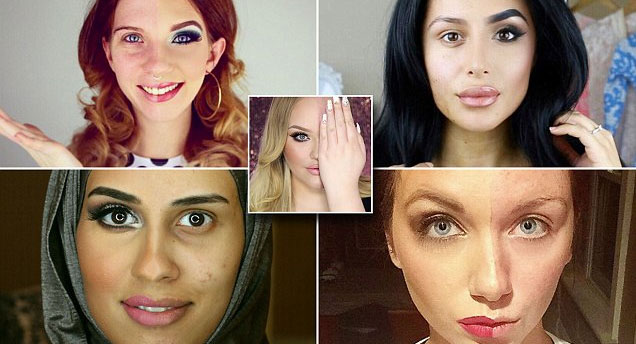 Women Posting Beautiful Selfies With Just Half Their Faces Covered in Cosmetics
Women are hitting back at all those who have "make-up shamed" them, or accused them of wearing make-up in order to please other people, with a powerful social media campaign which sees them posting images of themselves with just a half their face covered in cosmetics, while the other half remains completely bare.

The movement was inspired by a video called The Power of Make-Up, which was created by 21-year-old YouTube make-up guru Nikkie de Jager, whose channel NikkieTutorials has over 1.2 million followers.

In the video, Nikkie first explains that she has grown tired of having to try and convince people that she meets while wearing no make-up that she is the same glamorous-looking girl who appeared in her videos. She then goes on to use a variety of cosmetics to give herself a glamorous look on just one side of her face, leaving the other side make-up-free.

"I've been noticing a lot lately that girls have been almost ashamed to say that they love make-up, 'cause nowadays, [if] you say that you love make-up, you either do it because you want to look good for boys, you do it because you're insecure, or you do it because you don't love yourself," she says at the beginning of the original video.

Nikkie's message inspired make-up-loving women all over the world to perform their own half-glam-half-natural looks and post selfies of the results to social media. Many of the women also included their reasons for wearing make-up.

Dozens of women - and some men - have taken on the challenge, posting their results with the #ThePowerOfMakeup hashtag and more often then not tagging Nikkie in their posts.

"Yesterday I watched my favourite youtuber @NikkieTutorials on her "Power of Makeup" video," writes one fan. "I loved what she did and did my own version of it. I wear makeup because its fun, I don't wear it because am insecure or so ppl would like me. I don't care if people judge me, thinking that I do makeup because I don't love myself," says another. "Gurl Please, I LOVE myself with and without makeup. Makeup is like art, you draw with your face as a canvas, and I love doing it because I like to transform myself into the mood I am on that day."

Not all the women have done half and half looks for the challenge. Some opt for simple before and after shots instead.

The challenge reveals exactly what the women are altering on their face with the make-up, whether that be thin or faint brows and eyelashes they want to enhance or a complexion they want to even out. But, by revealing their natural features, they also show that they are not ashamed of the way they look, even though they love to use make-up.