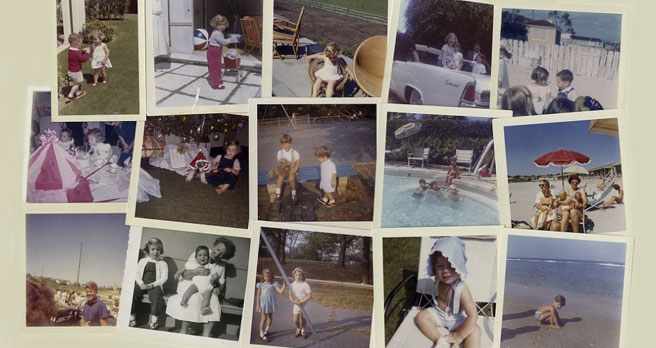 Nanny's Never-Before-Seen Private Photos of JFK
A set of never-before-seen photos of the Kennedy family, which features images of former President John F. Kennedy, his wife Jacqueline and their two children, will be put up for auction this week.

The 79 candid images were previously owned by the family's nanny Maud Shaw, who watched the couple's children Caroline and John F. Kennedy Jr. for seven years, much of which was spent in the White House. The pictures, along with a custom-made maternity dress the First Lady wore while pregnant with John in 1960, are being sold as one lot by Nate D. Sanders Auctions on Thursday, June 25, and offer a rare and unique glimpse into the private lives of the former first family.

In one photo, Jackie can be seen wearing a white dress with light blue and purple dots while sitting on a manicured green lawn with her daughter, who is posed next to an Easter basket. The fashion icon, whose personal style is still revered after her death in 1994, is facing Caroline and looking over her shoulder as she smiles as the camera. Another picture shows the active mother-of-two leading a pony, which Caroline is riding. It is unclear whether or not the pony was Caroline's pet Macaroni, which was a gift from Lyndon B. Johnson. Jackie became an equestrian at an early age and horse-riding remained a lifelong passion, which she passed along to her daughter. Other snaps include family moments at the beach, a casually dressed JFK, Caroline and John playing, as well as snapshots of Maud with the children.

The family frequently vacationed at the Kennedy Compound, a waterfront property on Cape Cod along the Nantucket Sound in Hyannis Port. JFK's parents Joseph P. Kennedy Sr. his wife Rose raised him and his brothers, Bobby and Ted, in the main home. In 1956, JFK bought a smaller property not far from his childhood home, while his brother Ted acquired the third home, which was adjacent to the other two, in 1959.

The rare pictures are a part of the former nanny's personal collection of Kennedy moments. Maud was began working for Kennedys after the birth of Caroline in 1957. She famously cared for Caroline and John after the assassination of their father on November 22, 1963 in Dallas, Texas.

Among the pictures in the lot is an image of a funeral procession, presumed to be JFK's, as well as a photo of his original gravesite at Arlington National Cemetery in 1963. Two years after JFK's death, Maud, who had never married, retired from her position and moved to her family home of London. Shortly after her retirement, Jackie visited her former employee in London, where she gave her the cream patterned dress that is now up for auction.