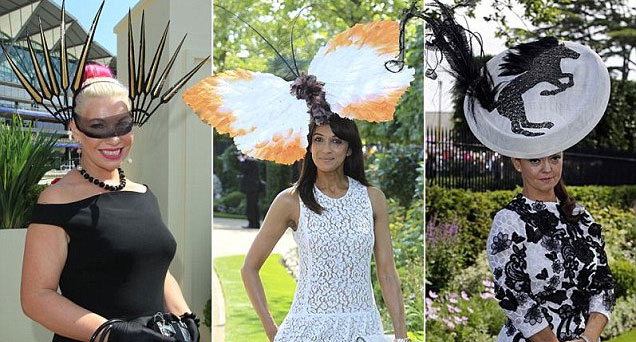 Feathered Visors and Butterfly Hats Get Royal Ascot Off to a Wacky Start
There might be a dress code in force but that wasn't enough to prevent racegoers from getting Royal Ascot off to a wacky start courtesy of a medley of bizarre fashion looks, including a feathered visor hat and a series of bridal-style gowns.

Other brave souls ran the gauntlet of Ascot's fashion police in dresses that defied the one-inch strap rule and skirts that showed off far more than the one-inch of thigh specified by organisers.

But not everyone chose to break the style rules. Some, perhaps mindful of organisers' warnings about bare shoulders, novelty clothing and too-small headgear, took a more traditional route in tasteful knee-length frocks and neatly tailored jackets. More still kept things simple in plain black and white or referenced the beautiful Berkshire countryside in frocks that came festooned with delicate florals and fauna-print.

Just as popular were summer classics such as jaunty nautical stripes, cheerful graphic print and sunny hues such as coral and rose, although one or two opted for bolder shades of crimson and plum.

Most of the dresses, again with Ascot's fashion police in mind, were accessorised with modest pashminas and while one or two fascinators were on show, picture hats and delicate cocktail numbers proved the most popular choices. Some of the hats proved particularly bold, with one racegoer sporting a design shaped like a giant butterfly and another plumping for a huge picture hat emblazoned with a picture of a black horse.

Bizarre or not, hats have helped make Royal Ascot one of the UK's most famous race meetings - also thanks in no small part to its association with royalty, a tradition that began with Queen Anne in 1711.

In recent years, royalty and racing have almost been eclipsed by the fashion, with huge hats, classic British florals and bright wedges taking centre stage in the paddock.

The meet has also become notorious for fashion faux pas – a problem that has seen the course issue increasingly strict guidelines over the last half-decade. Nevertheless, bookmakers Coral are currently offering odds of 1-2 that at least one lady will be photographed being escorted off the premises after falling foul of the fashion police and has priced other faux pas such as hats being blown away at 1-5.

Just as likely, say the bookies, are skirts being blown up at 1-3, a dress splitting at 1-2, high heels getting stuck in wet grass at 1-5 and, in the case of male racegoers, 6-1 that one trips over his tails.

"As one of the most glamorous events on the racing calendar, there's nothing quite like Royal Ascot," explains Coral's Nicola McGeady. '"The meeting has always been famous for its fabulous fashion but as thousands of punters look forward to a fun day at the races, there will inevitably be some that don't even make it past the first hurdle."