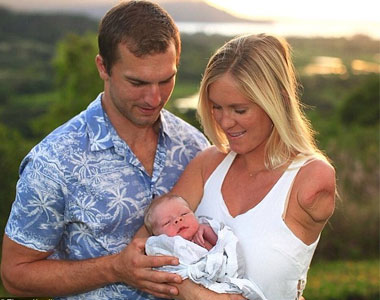 Baby Joy for Shark Attack Survivor Bethany Hamilton
Inspirational pro-surfer Bethany Hamilton has welcomed a baby boy.

The 25-year-old and husband Adam Dirks announced the news on Twitter and shared a first picture of the baby with fans. "Blessed to welcome our son, Tobias, into the world! #stokedmomma," she captioned it. The couple gaze adoringly at the newborn while Bethany cradles him in the sweet family portrait. Bethany, who became a global inspiration aged 13 when she climbed back on her surfboard after the brutal 2003 shark attack, revealed in February that she was having her first child with Adam.

The pair, who married in August 2013, informed fans about their unborn son with a pre-recorded interview from their home in Kauai. She put her board away temporarily in the latter stages of her pregnancy but stayed active with ocean swims and hikes.

On April 24, Bethany posted a photo on Instagram of herself cradling her bump on the top of a hill, with the sun shining brightly behind her. She captioned the image: "Morning hike with baby boy! #33weeks."

Meanwhile, on May 2, she uploaded a picture of her and her bump surfing on a long board, writing: "Cruisin #SurfsLikeAGirl #pregnantandsurfing @lieberfilms", in reference to the bipoic she is filming.

And in another post, Bethany remarked of her pregnancy: "My favorite thing about being pregnant is feeling my lil guy move inside of me. It's so strange yet the best feeling.. #35weeks".

But despite her determination to spend time outdoors, Bethany admitted she found it more and more difficult to walk up stairs. She recently said she was "putting the short board away for a while".

Last year, Bethany and Adam competed in season 25 of The Amazing Race - a show which sees eleven teams of two race around the world in a bid to win $1million. They came in third place.

In the interview in which the couple revealed they were expecting a baby, which was 'liked' online 98,000 times, Bethany said: 'In baby terms I'm about 22 weeks, which is about halfway there.

"It's been a pretty crazy last four months finding out that we're going to be parents. Life's kind of going to be changing and kind of just started to prep for bringing a new little being into the world."

"It's really exciting. I've been surfing through my whole pregnancy. I plan to surf as long as I can." Bethany admitted that her missing arm could prove challenging when it comes to her baby boy.

"Motherhood with one arm, I kind of think about it. I kind of forget I have one arm, a squirming baby and changing diapers and just me could be really challenging," she said. "But I think how I live life now. I just adjust and adapt to different things and I'll find my own ways to take care of the baby."

At just 13, Bethany lost her arm - and a shocking 60 per cent of the blood in her body - when she was attacked by a shark while surfing off the coast of Kauai. Incredibly, she survived the attack.

In later interviews, she revealed she did not feel pain as her family rushed her to hospital.

Despite her injuries, Bethany did not give up on her surfing dreams, and began competing professionally four years later in 2007. In 2010, she was the 20th ranked woman among surfers.