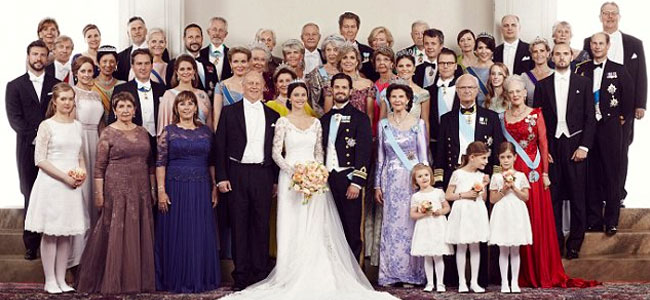 Europe's Royal Families Unite For Official Wedding Portrait From Swedish Prince and his Bride
Sweden's Prince Carl Philip married Sofia Hellqvist, 30, at Stockholm's Royal Palace on Saturday in one of Europe's most glamorous weddings.

And now, the official wedding portraits from the genetically-blessed couple's big day have been unveiled - and royals from all over Europe pose together in the charming shoot.

The prince, 36, is the third in line to the Swedish throne behind his elder sister Crown Princess Victoria and her three-year-old daughter, Princess Estelle. They were among the guests in the photograph, along with Prince Philip's parents, King Carl XVI Gustaf and Queen Silvia.

Other familiar faces in the snap include Prince Edward and Sophie, Countess of Wessex, Queen Sonja of Norway, her son Crown Prince Haakon and his wife Princess Mette-Marit, and Queen Maxima of the Netherlands.

Denmark's Queen Margrethe II, Crown Prince Frederik, Crown Princess Mary and Princess Marie also make an appearance.

In one shot, Sofia and Carl Philip stand with their proud parents, Marie and Erik Hellqvist and King Carl XVI Gustaf and his wife Queen Silva. In another, the prince and princess with their respective sisters, Lina and Sara Hellqvist and Crown Princess Victoria and Princess Madeleine of Sweden.

There's also a snap of the happy couple with Sofia's bridal party, including Princess Estelle, who is second in line to the throne and the daughter of Crown Princess Victoria and Prince Daniel, Chloé Sommerlath, Tiara Larsson and Anaïs Sommerlath.

But while many of the royals looked stunning in their jewel-coloured gowns, all eyes were on Princess Sofia.

The 30-year-old, who was given the official title of Princess Sofia of Sweden, Duchess of Värmland, looked breathtaking in an elegant bridal gown, completed with a delicate diamond and emerald crown.