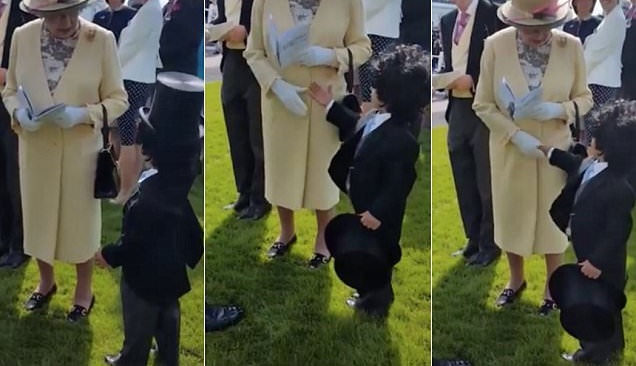 Endearing Moment Young Boy Takes Off His top Hat and Shakes the Queen's Hand
This is the adorable moment a young boy took off his top hat and approached the Queen for a handshake as she spoke with Dubai royalty at the Epsom Derby.

Little Mohammed bin Ahmed Jaber Al Harbi looked dapper in a top hat, white tie and tails as he walked up to Her Majesty as she stood in the paddock at Epsom Racecourse on Saturday.

The monarch, wearing a flowery dress, yellow coat and sunhat, was talking with Dubai's ruler, Sheikh Mohammed bin Rashid al-Maktoum, when the youngster approached.

The young boy is believed to be acquainted with the Dubai royal family and is often pictured with Sheikh Mohammed's son, Crown Prince Sheikh Hamdan bin Mohammed bin Rashid Al Maktoum.

Sheikh Hamdan, the Middle East's equivalent of Prince Harry, uploaded the endearing video to Instagram alongside the caption: "Nothing defines respect better than a proper handshake! Epsom Derby with Queen Elizabeth II."

The footage shows the small boy approaching the 89-year-old monarch as she peruses a racecard at the sun-soaked racecourse.

He then takes off his black top hat before stretching out his hand to the Queen. Her Majesty reciprocates the gesture and shakes the youngster's hand before he walks off with a big grin on his face.

The Queen, who is a big equestrian fan, attended the Derby with her husband Prince Philip, racing adviser John Warren and Princess Michael of Kent.

Mr Warren could be seen in the video smiling and laughing as young Mohammed carried out the loveable gesture.

The youngster is believed to be part of the Dubai royal family and is often pictured on social media with Sheikh Hamdan, who describes the little boy as his "best friend" in many posts.