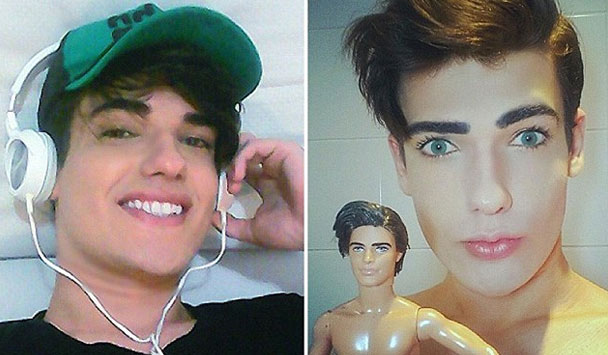 Brazilian Real-Life "Ken Doll".. Dies!
A real-life Ken doll has died after losing a five-month battle against leukaemia.

Brazilian Celso Santebanes, 20, spent £30,000 on surgery to turn himself into a human version of Barbie's boyfriend.

He started his transformation into manufacturer Mattel's iconic toy after winning a modelling contest at the age of 16.

He was catapulted to fame after being spotted by a talk show in his native Sao Paulo and began to charge up to £10,000 for a VIP appearance.

Celso, a doll enthusiast, grew up with a shelf-full of dolls and claimed that his family had always told him he looked like the doll, which inspired him to become a "human puppet".

He changed his last name from Borges Pereira to Santebanes, the name of his favourite character on a Mexican TV show.

He launched his own line of Celso Dolls in Los Angeles shortly before falling ill.

Celso died at a university hospital in Uberlandia in the state of Minais Gerais on Thursday after contracting pneumonia. He had been admitted to the hospital on May 26 for chemotherapy sessions. He was buried yesterday.

Dad Celio Borges said: "When he was starting to fulfill his dreams, he discovered his illness and his dreams were interrupted. "He had plans but God had others."

Celso discovered he had cancer after going to hospital to treat infections caused by hydrogel fillers injected into his legs four years ago. The former miner had four ops on his nose, chin and jaw - plus silicone implants in his chest - after friends told him he looked like a puppet.

In an interview with a Brazilian newspaper after he was discovered, he said: "This is so magical. My life has changed. I feel like the whole of Brazil is supporting me. People are sometimes frightened by the way I look, and stop me to say how much I look like a doll. I do suffer a lot of prejudice. But the world is full of judgmental people, I don't care."

But in January this year, Celso announced that he was starting a 'new cycle' in his life, and that he was "no longer concerned with the issue of aesthetics".

"For me that doesn't matter" he told the Latin Times. "What matters now is my health and I will fight for it."