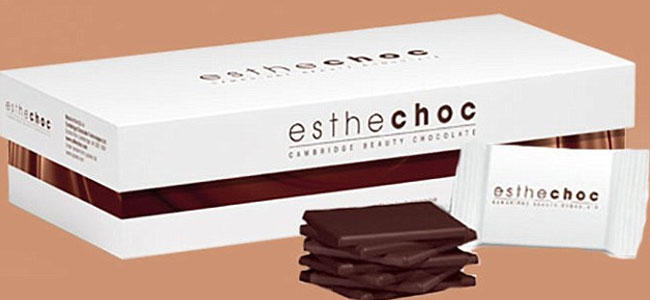 Chocs That Make You Look Younger!
The chocolates come as individually wrapped glossy squares, a little smaller and thicker than an After Eight mint. They're definitely moreish - and the recommended dosage is just one a day.

Dosage? Yes that's right. This is the world's first "beauty chocolate", which its British manufacturers claim actually protects against the signs of ageing.

Aimed at the skincare market, a daily 7.5g ration of the specially formulated dark chocolate - Esthechoc - will, the makers say, reduce skin inflammation and increase oxygen circulation, helping to stave off wrinkles and fine lines.

For generations raised on the belief that chocolate causes blackheads, spots and oily skin, it sounds too good to be true - and sticking to the one-a-day rule could be a problem for the weak-willed.

This skincare confectionery arrives in clinical white packaging, semi-glossy, but far removed from the extravagance you might expect from chocolates costing £35 for a box of 21.

Each one is wrapped in a plastic, tear-open sachet. Over the three-week course, its makers say, hundreds of people who underwent a scientific trial experienced increased levels of protective antioxidants in the skin.

It's an extraordinary claim that, if correct, will bring joy to millions of people anxious about the onset of crows' feet, laughter lines and blemishes of middle and old age, who will happily read the blurb about 'detoxication' as they swallow their daily chocolate.

But can something so unlikely be true? Could a daily chocolate really take years off your appearance?

The beauty chocolate is the brainchild of former Cambridge University scientist Dr Ivan Petyaev who claims it has been ten years in development. It's not his first unlikely-sounding claim for the health benefits of food.

Three years ago, he suggested that a chemical in ripe Roquefort cheese could prevent cardiovascular disease, and may partly explain why the French have relatively healthy hearts and arteries despite eating lots of saturated fat. The theory, published in a scientific journal, was widely reported at the time.

Dr Petyaev's work on Esthechoc follows dozens of studies showing that cocoa and dark chocolate are both high in polyphenol antioxidants, natural plant chemicals that protect the body's cells - including skin - against damage.