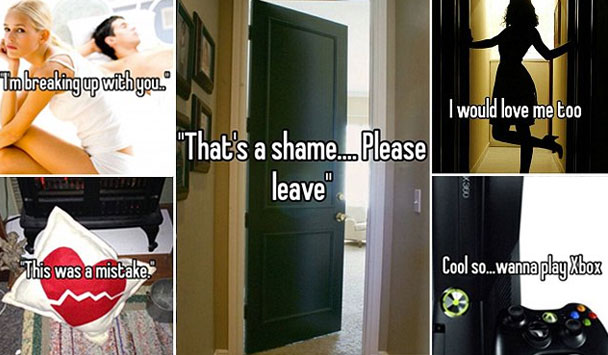 The Most Humiliating Reactions Received After Telling Someone "I Love You"
Sometimes no response really is the best response - this especially being the case when it comes to unrequited love.

Users of secret-sharing app, Whisper, have revealed the most humiliating reply they received after telling someone that they loved them.

In each case, those three magic words are met with unceremonious rejections, ranging from patronising suggestions to pointblank disregard.

Whisper allows users to anonymously confess their deepest and darkest secrets - suitable for those wanting to protect their identities following their humiliating rejections.

The app asked users: What's the worst response you've gotten after telling someone "I love you"?

Among the callous answers, one rejected person shared their experience of hearing: '"his was a mistake."

Another turn-down appeared to have taken place after a night of drinking, as the person replied: "I don't know if I need another drink or if I should sober up".

One person revealed their experience after someone gave them a patronising excuse: "You're too young. You don't know what love is. I'm 24."

One of the reactions saw one love interest completely disregard the confession of love: "Cool so.. wanna play Xbox?"

The worst reactions by far were the ones that cruelly ignored the feelings of the confessor, one stating: "I know you do, but I don't love you any more."

Another Whisper user painfully shared their own experience: "That's a shame.. Please leave."

Another example of unrequited love saw someone coldly explain: "I told you not to."

One opportunistic person decided that in the moment of shared feelings to admit their love for someone else: "I love your sister."

Others were oblivious that the "love" in question was of a romantic context, and replied: "Awwww! Thanks! I like our friendship too!"

Relationships expert, Tracey Cox, reveals that often it's the fear of commitment that often causes people to respond in a cruel manner.

She says: 'Saying "I love you" for the first time is incredibly nerve-racking. The only correct response, of course, is "I love you too".

"But it's often the first step to turning a relationship from casual to serious. You might be thinking it's turning into a long-term thing, but they're stuck at having fun and what you're interpreting as reciprocal romantic feelings might well be affectionate friendship."

Tracey adds: "The only way to find out is to tell them how you feel - but it is always a risk."