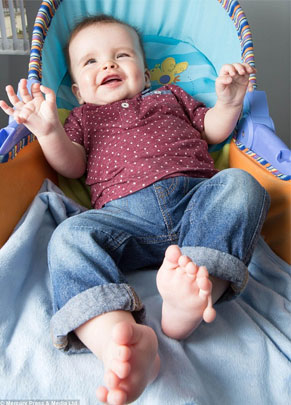 The Baby Boy Born With 12 Fingers And 12 Toes
A little boy born with 12 fingers and 12 toes has left doctors baffled.

Before his birth seven months ago, Jacob Duffy's parents had been led to believe their son was perfectly healthy.

But upon his arrival, Rachael Hendry and John Duffy were shocked to discover their child had an extra digit on each of his limbs.

As well as his extra fingers, Jacob's thumbs are triphalangeal, which means they have an extra joint.

Although some of the digits are only loosely attached, doctors say they cannot remove them until he is 12 months old as they do not want to put him under anaesthetic.

Ms Hendry, 24, a bank assistant, said when Jacob was born, they believed he had broken his finger.

She said: "We were shocked when he was born and saw his little finger - at first we just thought that he had broken it."

"My pregnancy was completely normal then we counted the digits and that was the first time we noticed something was wrong."

"We joked around a bit at first and said that at least he will be good on the piano - but obviously we quickly realised that things were a bit more serious."

His extra toe could affect Jacob as he learns to walk, she added.

"Doctors don't want to remove his extra digits until he is 12 months old because they don't want to put him under anaesthetic - even though one toe is really loose and could affect his walking."

"I quite like the extra fingers and I don't really want the surgeons to chop them off but kids are quite cruel and I could hardly send him to school with them."

When Jacob was born, after discovering his additional fingers and toes, it became clear he also had a number of other birth defects.

These include a hole in his heart and serious problems with his sight.

He also has an allergy to dairy products, and difficulty swallowing, so he requires a thicker feed.

Doctors say he has a medical condition which is the underlying cause of all the health problems – but as yet, this remains undiagnosed.

They hope the hole in his heart will close itself by the time he is one, without the need for surgery.

It is common to have such a hole, and most people with the condition never know they have it.

However, Jacob's eye problems are more serious.