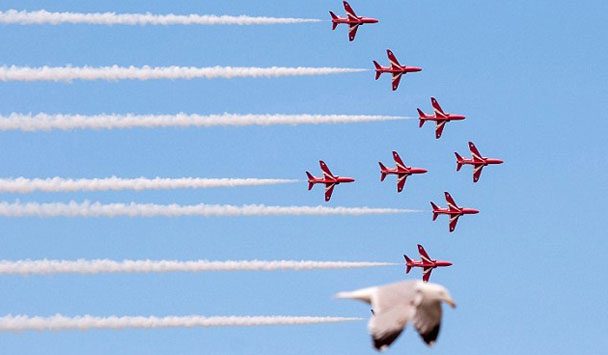 The Hilarious Moment a Seabird Photobombed the Flying Team
A photograph that appears to show a seagull flying in formation alongside the world-famous RAF aerobatics team has become a massive internet hit.

The surreal image was captured by photography student Jade Coxon, 18, as she took pictures at the Llandudno Air Show on Saturday.

It even appears to show the intrepid seagull with his own vapour trail as he flies in perfect symmetry with the iconic planes.

It has been viewed more than one million times since she posted the picture online the next day.

Miss Coxon, of Llandudno, in north Wales, said she couldn't believe her luck at getting the perfectly timed shot.

But the Chester University first year student remained modest about her achievement.

"It was mainly luck but I was really happy with it. I saw the seagull fly in the way of the picture before I took it," she said.

"It is completely covering the plane so you can't see it and the airtrail is behind the seagull."

"I was there to take pictures of the air show, I was taking pictures of the planes and the seagulls as well and then both things joined together."

The photograph has been shared throughout the world, winning fans in Australia and New Zealand.

Miss Coxon, whose father is a professional photographer, said the popularity of the picture gave her a 'real boost' to keep posting her images online.