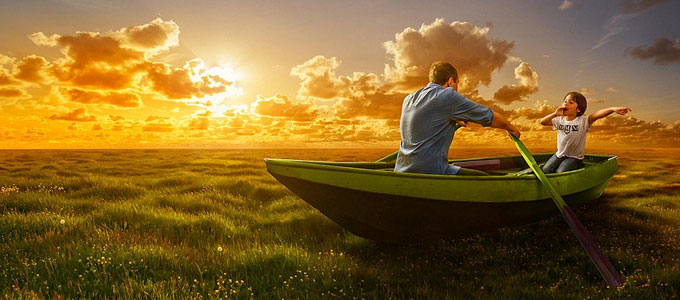 Dad Uses Digital Trickery To Create "Photos" Of Son's Adventures
Instead of children's birthday parties and generic beach snaps, Adrian Sommeling's family photo album contains a far more action-packed selection of images.

From dodging giant bullets to sitting on the wing on a plane, the 48-year-old graphic designer has spent five years creating amazing cartoon-like pictures of him and his young son Nic.

Artistic Mr Sommeling, who lives in Amsterdam, can spend months piecing together landscapes and studio images of his child and models to create the fascinating portraits.

"It's not that I had planned the series with my son," he said.

"It was more that I needed a model for the stories that I had in mind, and he was always there, so it was easy to put him in the photo."

"Nowadays I work more and more with other models, but in between those he's in them as well."

Mr Sommeling takes pictures of scenes, including many European landscapes, before overlaying model shots from studio photographs.

He said he loves telling tales with the pictures he puts together and was inspired by his mum.

"My mother is an artist and since I was young I sat next to her and saw her draw and paint photorealistic paintings," he said.

"This is one of the biggest advantages that I had to be able to create what I do now."

"Because I started already young, looking at lights and shadows."

The unconventional artist said his favourite image is one of his son hanging on to the Paris Subway train.

"But also the one where he paints his self portrait on an old master painting in the Rijksmuseum in Amsterdam, and the one where he is sitting on his bicycle with all the fire," he said.

How quickly Mr Sommeling can create the striking images depends on how fast he finds a background.

"Sometimes I walk for months with several ideas in my mind just waiting till I see somewhere a background that I need."

"When I have a background it all can be finished in a day, from taking the photos of the models in the studio till the post processing part."

In one image, Mr Sommeling and his son star in a Matrix-style shoot out, in which the father is leaning back to dodge the fast-moving bullets, being fired out of a Nerf gun by Nic.

In another Nic is depicted riding a bicycle that is engulfed in flames, and in one image the boy and a friend are 'photographed' sitting on the wing of an aeroplane mid-flight.

Other awe-inspiring photographs see the pair in a boat rowing across a field of grass, getting caught in a storm and looking through a magnifying glass in a library.