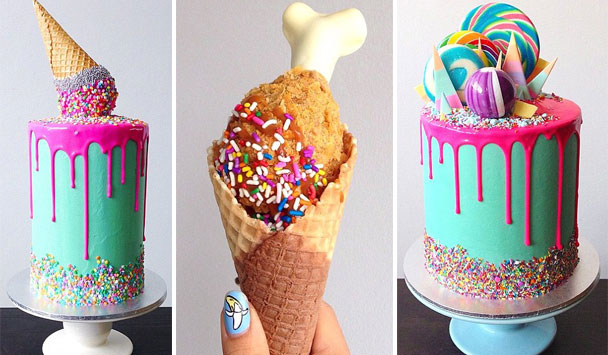 Are These The Coolest Cakes Ever?
This time last year Katherine Sabbath was a high school teacher who enjoyed making cakes for friends' birthdays in her free time.

Today, she has gained "Insta-fame", with more than 108,000 followers glued to pictures of her masterful rainbow desserts.

With offers pouring in, Ms Sabbath, 28, has taken leave from her job as an HSIE teacher in Campbelltown to work full time on her edible masterpieces.

While Katherine's sweets repertoire is varied, it is her neon bright cakes adorned with colourful sprinkles, lollipops, and fairy floss (candy floss) that attract the most likes on social media.

Ms Sabbath, from Marrickville, started her love affair with sweet treats during own school days. 'I'd make simple cupcakes for my friends' birthdays, and share them on the playground during recess," the bubbly self-taught cook told Daily Mail Australia.

"I started with packet mixes, and then in university I learned how to make cakes from scratch from my mother's cookbooks."

"I was baking for fun, and through trial error, I became good."

There were several kitchen disasters before she got the hang of baking. "It took me a while to realise that baking is scientific," she said. "I never used to measure the butter, sugar and flour properly. I would open the oven door to check how the cake was going... I have learned patience."

As her skills improved, Sabbath turned to YouTube and blogs to inspire her creativity, and soon her friends and family were regularly requesting her colourful cakes.

"I would post pictures of what I was making on Facebook, but only my friends would see as it was a private account because I'm a teacher," she said.

In early 2012, Katherine joined Instagram, and quickly gained a following. Two years later, she is on her way to becoming the next celebrity cook.