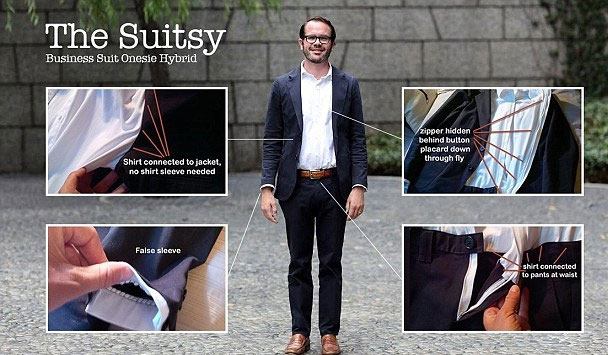 Man Wears £215 Fake Zip-Up Suit For a Week
A San Francisco Bay area tech blogger wore a zip-up suit onesie for a week wondering if anyone would notice.

The verdict? They didn't! Greg Ferenstein donned the all-in-one Suitsy this month in an attempt to determine whether the much ballyhooed jumpsuit was a genuine substitute for the real thing or just pajamas masquerading as workplace garb.

After days of wearing the cotton/polyester blend, machine washable suit--even to a Republican rally for Senator Rand Paul--he had his answer.

"There were suits oozing out the front door waiting to get a selfie with the libertarian icon. I blended right in," Ferenstein writes in Business Insider. "One dressed-down hip conservative asked me why I chose to join the other square stiffs wearing formal attire, "This is Silicon Valley — what are you doing?" he chuckled."

Ferenstein says he spent the week doing everything in his Suitsy: grocery shopping, to business meetings, nights on the town and even to the gym to work out.

"Were it not for occasional glances in retail-shop windows, I would have thought I was at home in sweatpants," he writes.

The Suitsy is the brainchild of Jesse Herzog, who paired with Silicon Valley retail startup Betabrand to bring it to fruition.

The suit consists of a shirt connected to a jacket with no sleeves inside, but with a face shirt cuff stitched at the end of the jacket sleeve.

A zipper is hidden up the front of the jumpsuit behind the false buttons and zips down to where the pants attach to the shirt and jacket.