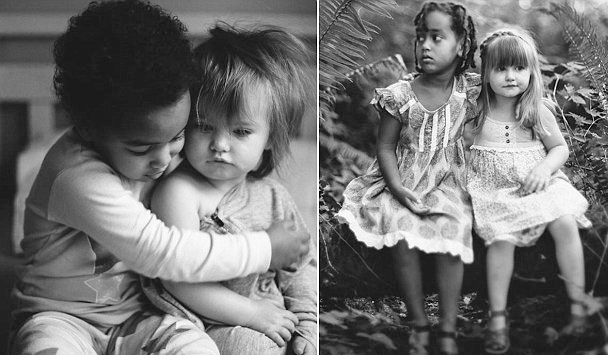 The Incredible Bond Between a Biological Daughter and Her Adopted Sister
A photographer snapped photos of her young adopted daughter along with her biological one to show just how love unites humans in spite of their differences.

Anna Christine in her photo series Barely Different takes playful snaps of one of her two biological children Haven, now three-and-a-half, in loving scenarios with her adopted daughter Semenesh, now five-and-a-half, whom she took in from Ethiopia five years ago.

Anna Christine, of Olympia, Washington, told My Modern Met two days ago that she 'always had a heart for adoption' after volunteering for an infant care facility in Haiti. One of the children under her care tragically died of HIV and it broke her heart.

"After leaving Haiti, I received word that he had passed away due to a progressed illness and low immunity from HIV. Through that heartache, I became certain that adoption was how I would grow a family."

Although two of my children are biological, I am so grateful for the things adoption has taught our family. It's a beautiful experience, and though not all of it is easy, it will always be completely worth it,' Anna Christine told My Modern Met.

Anna Christine began taking photos of her daughters when Semenesh was three-and-a-half and when Haven was just One-and-a-half-years-old.

Anna Christine say that the girls are best friends and don't let differences like the color of their skin keep them apart.

The photos shot in black and white highlight both the girls' similarities and differences.

"I've titled it Barley Different because I would like others to see how skin color has nothing to do with our human connections," said Anna Christine.

"Two souls birthed on the opposite sides of the world, were brought close through adoption, and their bond is great because of unity. It's opened my eyes to the potential we have to love and accept one another as brothers and sisters, just as they do,' Anna Christine said of her girls."

Those who wish to hire Anna Christine or to see more of her work can do so by visiting her website. Anna Christine also shares her photos on an Instagram account.