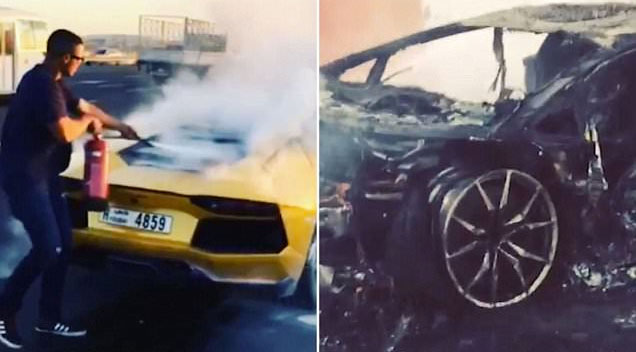 Watch: Lamborghini is Reduced to Ashes By Engine Fire in Dubai
For some drivers even a small dent in the door of their car would be the end of the world.

So imagine how this unnamed man felt when his £250,000 Lamborghini Aventador went up in flames in Dubai.

Footage shows the yellow supercar surrounded by smoke as its parked on a road near the luxury Al Qasr Hotel.

A man wearing just a black T-shirt, jeans and trainers can be seen desperately using a fire extinguisher to try and put it out.

Firefighters also douse the car in water as smoke continues to pour out from underneath.

Unfortunately despite their best efforts the car is reduced to a mere smouldering carcass.

A wealthy Russian tourist filmed the moment on his mobile phone and posted it to his Instagram page.

A second video showed the car's wreckage, with its doors and back windscreen completely destroyed.

It is not clear what started the fire although some reports suggest it was due to a suspected engine fault.

The Aventador can go from a standstill to 60mph in just under three seconds and has a top speed of 217mph.