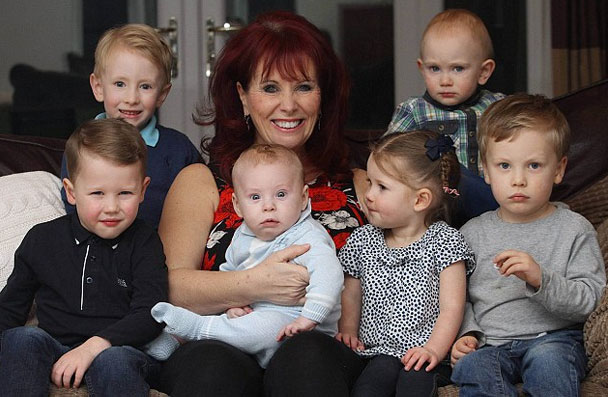 Grandmother Midwife Delivers All SIX of Her Own Grandchildren
A grandmother says she has a "special bond" with each of her six grandchildren – because she was also the midwife who delivered them.

Virginia Howes, 55, has supervised the births of her daughter and two daughter-in-laws' babies over the past four years all from her home in Woodchurch, Kent.

The midwife has welcomed into the world four-year-old Luca, Jesse and Lex, both three, Connie, two, Cody, one, and six-month-old baby Zak.

She said when her eldest son Andrew and his wife Charlott fell pregnant with their first child, Luca, everyone assumed she would be the one to deliver the baby.

"I was more than ready when Andrew phoned up and told me her labour had started,' she told the Sunday People."

"When I had Luca in my arms ­it was as a gran, not a midwife," she said. "I couldn't stop crying, it was such an emotional moment."

"Not many grans can say they helped deliver one of their grandchildren – let alone all six."

"But as long as they keep having children, I'll be their midwife."

"Who knows, I might end up delivering my own great-grandchildren one day."

Her daughter Sophie, 28, gave birth to Jesse, who is now three, in a birthing pool in her front room.

"Seeing a new life come into the world is wonderful every single time but delivering my own grandchildren was extra special," she said.

Sophie said: "Mum's brilliant. She got upset seeing me in labour, but I kept strong too and we got the job done."

Ms Howes then delivered her son Matthew and his wife Gemma's first baby, Lex, in November 2011.

Sophie's second baby Connie was born in January 2013 and Andrew's ­second son Cody came in October that year.

Last to join the family was Matthew's second child, baby Zak, in November.

All were home births and were mostly straightforward, with Jesse taking the longest to arrive after five hours.

Ms Howes said: "I've loved delivering all my grandchildren. It has given me a special bond with all of them."

She has delivered more than 500 babies over the past 18 years and set up as an independent midwife in 2000.

Her bespoke services do not come cheap as she charges a flat rate of £3,000 for round the clock care.

"I was really lucky that the very first midwife I learnt from carried her own case load," she said.

"This meant that she cared for the women all through pregnancy, the birth and afterwards. I was able to see how wonderful, even when tiring, getting to know the families you are working with can be."

But Ms Howes does not have particularly good memories of giving birth in hospital.

"Each time it was a flurry of white coats and stark wards, constant monitoring and prodding," she said.

"I was told to stay on my back and given sedatives without requesting them, which left me in a drug-fuelled haze."

"And my babies were taken away from me even though every bit of my being was crying out to hold them."

"When my second son Andrew was born the midwife broke my waters without my consent, sending me into excruciating contractions."