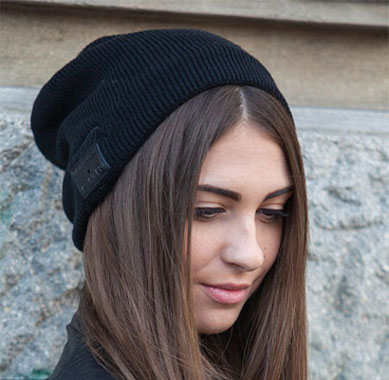 "Bluetooth Beanie" Fitted with Speakers and Microphone
If you want to wear a Bluetooth headset without looking like an executive from the early 2000s there is now an alternative.

The 'Bluetooth Beanie' looks like a standard woolly hat but pairs with a phone and is fitted with speakers and a microphone.

Once connected, wearers can make and receive calls from their hat as well as listen to music, adjust the volume and skip songs.

It is charged via USB and its built-in 120mA Li-ion battery has a 60-hour standby time, or will last for six hours of continuous music and talking.

And its Bluetooth chip connects to any Bluetooth 3.0 compatible device within a range of 33ft (10 metres).

"Stay warm all winter while listening to music and talking hands-free' said the firm."

"High-quality speakers with a microphone are built right into this beanie, connecting seamlessly with your smartphone via Bluetooth."

"We believe the speakers in this beanie are so good, we dare you to challenge them against those overly expensive brands."

The Beanie can be washed after removing the speakers and Bluetooth receiver.

It is the latest gadget to build smart technology into clothes, and a former Google executive believes that the technology will soon be so advanced, our clothes will be able to charge our phones and tablets.

Technology expert Frank Golding said that in the near future parts of our clothing will be able to use our bodies as a power source.

Smart fabrics that harvest kinetic energy to create electricity are already being turned into clothing and accessories.

While other materials will be able to display information and emit sound - eventually removing the need for separate screens or headphones.