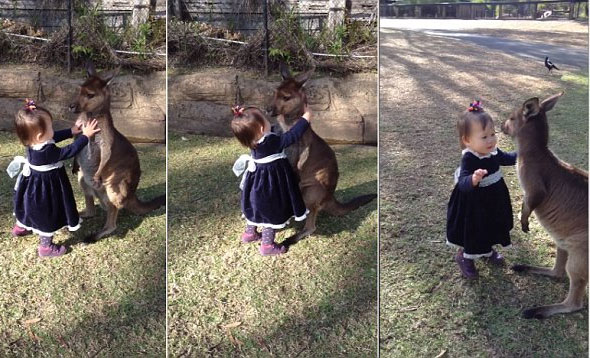 A two-year-old making friends with a baby kangaroo
The "boxing kangaroo" is an Australian icon.

But some joeys are more gentle than others, as this young kangaroo proved when it made friends with a two-year-old girl.

On her first visit to the Australian Reptile Park in New South Wales, the toddler was seen sharing a tender moment with the young animal, captured on camera by her mother.

The two-year-old girl and her parents stand in a pen filled with young kangaroos.

Taking a liking to one in particular, the young girl makes her way over to it and puts her hand out in front of its face.

The kangaroo sniffs it gently and appears completely indifferent to the sudden intrusion of its personal space.

After stroking its face, the young girl pulls her hands away and begins rubbing them together before placing them both on its chest.