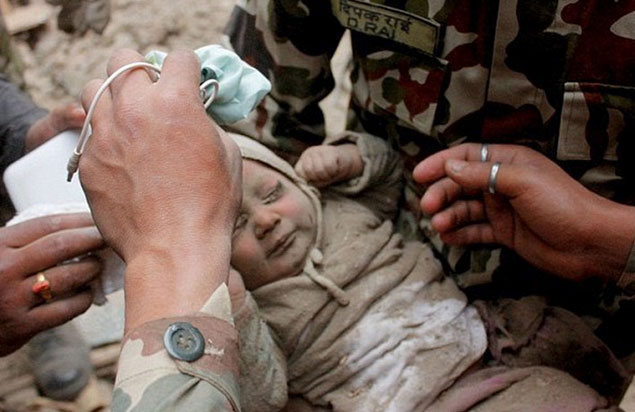 Incredible moment four-month-old baby is pulled ALIVE from the rubble of Nepal's earthquake
This is the incredible moment that a four-month-old earthquake survivor was pulled alive from the rubble of his collapsed home following the 7.8-magnitude tremor which shattered Nepal.

The baby boy, who emerged from the wreckage covered in dust, was miraculously found amid the devastation after rescue workers heard the infant's faint cries.

The military search team had already scoured the area near to the child's home in Bhaktapur, Kathmandu, in the hope of finding the little boy. But they had moved on after believing the child had not survived.

They only returned to the spot for the second time when the young boy's cries for help were heard from beneath the debris.

An operation was then launched to pluck the baby to safety, 22 hours after the quake first hit.

The boy was named locally as Sonit Awal and reported to be in stable condition, according to Kathmandu Today. The condition and whereabouts of his parents are unknown.

The pictures emerged today as the first British fatality from the earthquake was confirmed.

The British Foreign Office said the victim was a non-UK resident who had lived in Hong Kong, but did not release any further details.

Foreign Secretary Philip Hammond later said officials were "urgently investigating" reports of a further British national reported killed at the Everest base camp.

He said they do not have any confirmation yet.

It also emerged today that another survivor who was trapped under rubble next to dead bodies for 82 hours stayed alive by drinking his own urine.